Details
Role
Agency of Record
Client
Discover Crystal River
Deliverables
Brand Campaign Strategy
Creative Services
Media Buying & Planning
Objective
1. Increase brand awareness, engagement, visitation, & in-market advocacy 2. Integrate recommended media for target audiences in key markets 3. Ensure consistency across creative with an omni-channel approach
Marketing Goals & Strategies
Discover Crystal River is fortunate to have the most amazing natural assets a destination could wish for—manatees. Our charge was to position Citrus County and Crystal River as the "Manatee Capital of the World" and showcase four charming small towns for visitors to explore. We launched the "Step Into Awesome" brand campaign that includes content about manatee education, conservation, and protection.
Keep reading to learn how Madden's marketing campaign with Discover Crystal River helped the destination outperform its competitors in year-over-year occupancy rate.
Messaging Strategy
When you "Step Into Crystal River" you go somewhere unexpected. There are no other places you can experience the type of travel you can in Crystal River—manatee experiences, world class fishing, and scalloping season. Messaging encourages travelers to discover "Untouched Florida." Visuals of one-of-a-kind eats and seeing a manatee up close develops an emotional connection between the brand and audience.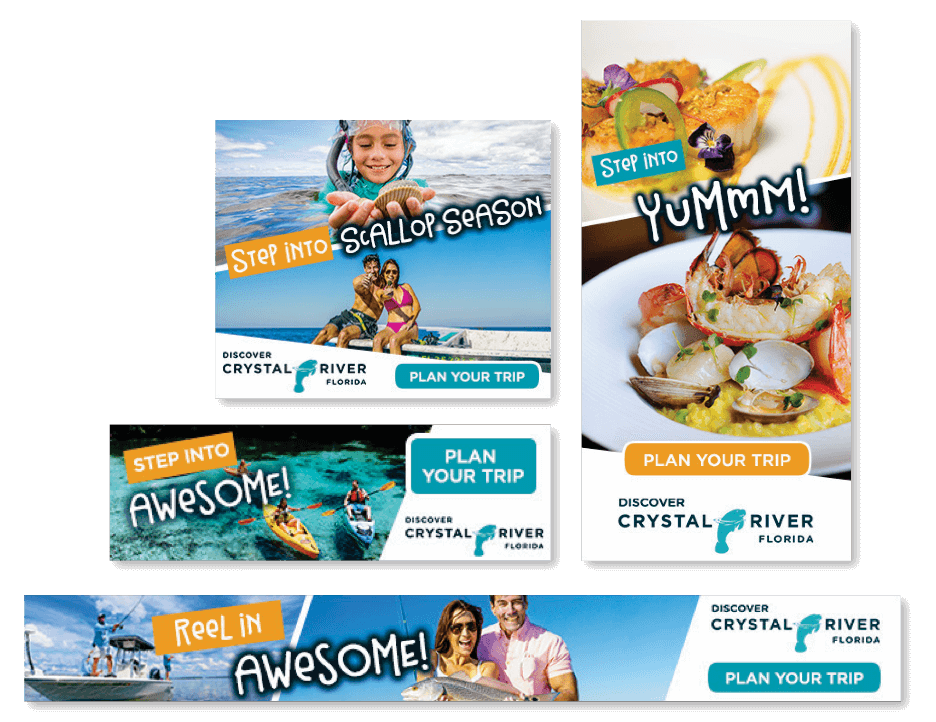 Design Strategy
Imagery and video assets appeal to an upscale audience while still connecting with family travelers. We established a mood board with the brand colors and evocative imagery that guides all design. The updated color palette is derived from destination imagery and provides a classy look and feel. The typography evokes a playful vibe to match the photography it accompanies.
Advertising Strategy
Each tactic boosts awareness in prospective travelers and guides them through the consumer journey. We use print, TV commercials, video, display, and social media to boost brand awareness. We increase inspiration using videos, Facebook Instant Experiences, and storytelling content. We rely heavily on SEM, remarketing display, and strong CTAs on our ads and website for conversion.
TV Segments
We incorporated TV into our strategy to generate mass brand awareness. Madden partnered with NBC in Tampa and Orlando to develop a :30 schedule targeting regional news and the Today Show to reach a broad, loyal viewership with more than 100 total spots.

We also leveraged added value with NBC Tampa, which included three segments. The first was a custom "Daytime" four-minute segment shot on-location with Daytime Host Danny New. Second, Discover Crystal River was featured during a Weather Sponsorship on Sunday mornings. Finally, NBC Tampa promoted the "Win a Trip to Discover Crystal River" Sweepstakes using 15-second promos and an online landing page.
Creating New Content
As part of the overarching brand campaign, we also established Discover Crystal River Florida as the "Manatee Capital of the World" and "International Manatee Authority" as Crystal River is the only place in the world that can make these claims. To do so, we created a stylized Manatee Capital of the World graphic used on marketing components that's being trademarked and added new, educational website content with informative details curated in conjunction with the Crystal River National Wildlife Refuge.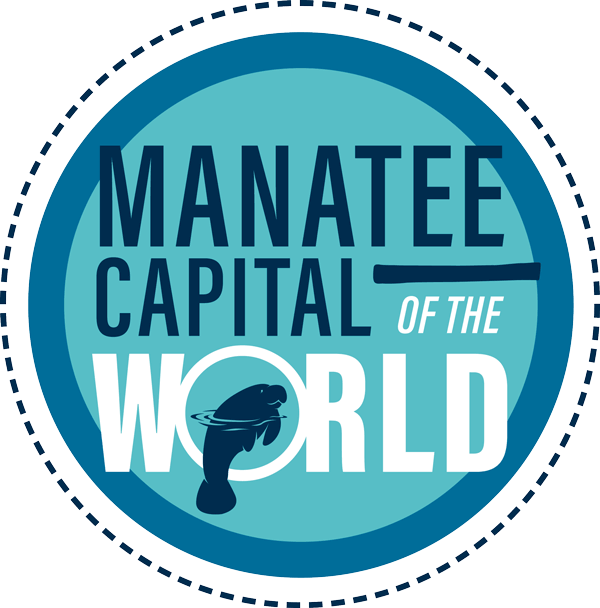 Check out "Swimming with Manatees," part of the award-winning Niche Marketing campaign!
By taking the "International Manatee Authority" brand position, it is our duty to be protectors of our manatees' winter sanctuary and ensure conservation is upheld year-round. All messaging highlighting manatees is created with social responsibility in mind to protect the natural habitat and champion conservation efforts.



To ensure messaging is accurate, we interviewed Crystal River National Wildlife Refuge partners and scientists in addition to researching how to best protect manatees and their home. This initiative was created and developed entirely by our team at Madden and has been provided to our PR firm to help amplify the messaging through both news and travel media.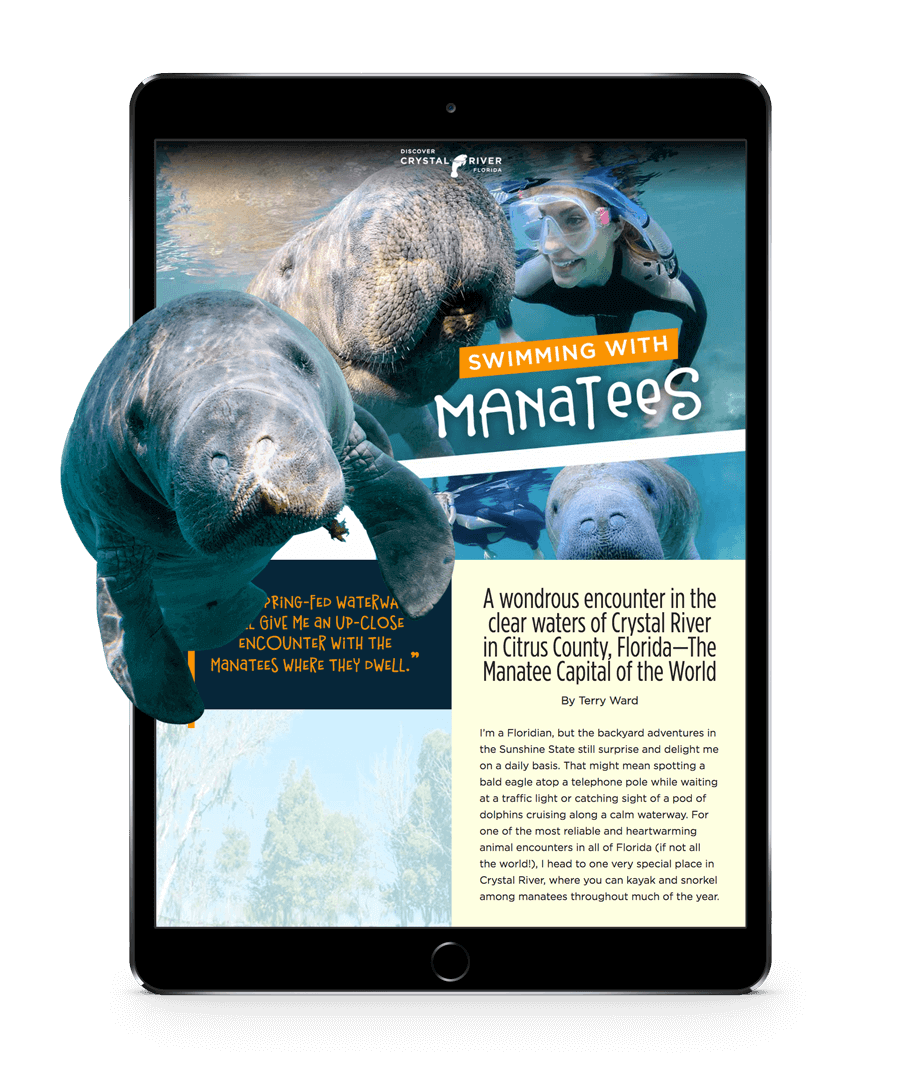 Campaign Performance
A key part of the integrated marketing campaign was to be able to track conversion activities and tie the branding efforts to visitation. Prior to the FY19-20 campaign, marketing efforts were not being tracked or monitored in a way that could quantify conversion activities. For this fiscal year, we implemented conversion metrics and begin collecting data related to the brand campaigns. Discover Crystal River and Madden achieved all of the goals we set when we began our work together.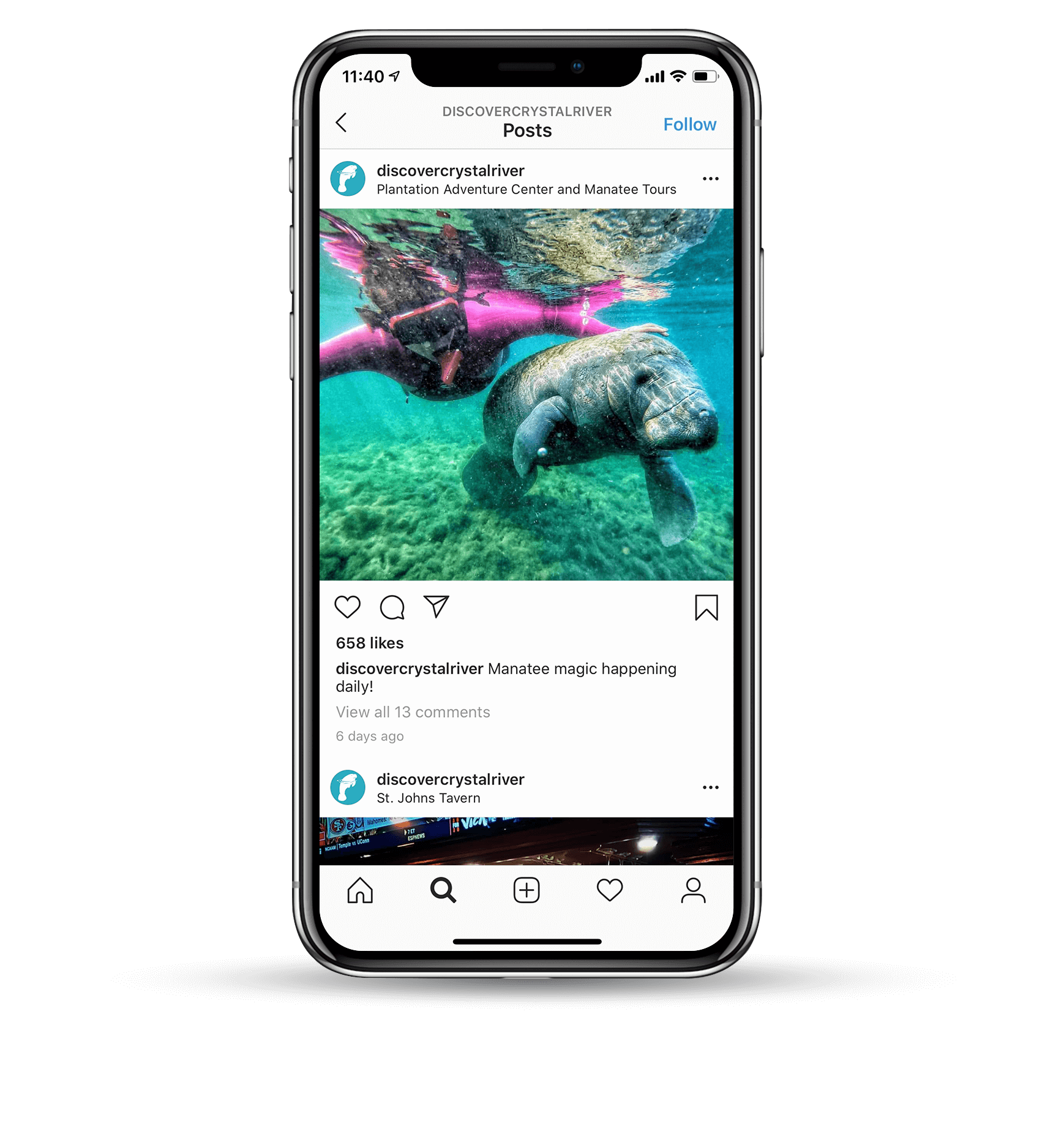 Although occupancy rate decreased throughout Florida due to the pandemic, Discover Crystal River declined only 11.2% in relation to a 33.6% statewide decrease.
The FY19-20 campaign has achieved the following results:
Pre-COVID-19 results in late 2019/early 2020 showed overall YOY visitation and tax collections up 9% with a 28% increase in visits from users in-market for hotels and accommodations. We also saw a 53% increase in visits from users in-market to Orlando. All behavior metrics have seen a 10% or higher improvement, including time on site, time on page, and bounce rates since implementing the new brand campaign. DiscoverCrystalRiverFL.com gained a 12% lift in organic traffic due to efforts tied to the "Manatee Capital of the World" brand campaign and an 85% increase in website traffic YOY.
Beyond KPIs and ROI
Most importantly, not only is Citrus County's manatee community stronger and healthier than ever, so is the overall population in Florida. Initial surveys in the early 1990's showed only 1,300 manatees left in the state. US Fish and Game estimates that population to be pushing over 6,500 today. While we certainly can't take credit for that amazing recovery, we will continue to do our part to connect the manatee to visitors, and educate, protect, and conserve this amazing gentle giant and its habitat for years to come.