The pandemic has impacted DMOs and the people in their destinations who rely on tourism for their livelihoods. Because of COVID-19, these people are suffering and they will look to their DMOs for solutions as we move out of quarantine and seek "normalcy."
Continual change is the only constant we see as a destination marketing agency. Never has the need for our Agile and adaptable marketing planning been more clear than in the time of COVID-19. Our dynamic approach to marketing plans will provide flexibility to adapt our tactics in real-time to the changing world around us.
As travelers consider booking trips, it's important that destinations stay top of mind while showcasing safety measures that are in place. Check out some work that we've been doing with our clients as we begin the road to recovery.
Traverse City Tourism
While many DMOs worried about future budgeting, the Traverse City team saw an opportunity to double-down with an aggressive recovery campaign. In a time where travelers dreamed of getting out of their homes and searched for positivity in the content they consumed, Madden promoted Traverse City's "My Happy Place" campaign, starting in May 2020.
Strategy
A custom logo, display ads, video vignettes, and other creative assets were developed to showcase fun and safe activities people could do in the Traverse City area, including enjoying sunsets at the beach, golf, paddleboarding, and other outdoor adventures. We utilized Connected TV and Samsung Smart TV video ads in addition to display ads on Google and Online Travel Agency sites such as Expedia and Priceline.
Ads included a Conversant pixel which allowed us to track credit card transactions and tie visitors and their in-market spending dollars to our advertising efforts. We used credit card transaction data to reach past visitors to Traverse City from the last two years and invite them to return to the idyllic destination.
Another targeting tactic included consumers within the drive market who had purchased cruise packages or international flights that had been canceled and invited them to stay closer to home and visit Traverse City instead.
Throughout the campaign, it has been crucial to be responsible marketers and encourage a safe reopening. COVID-related content was added to their website to help visitors learn about what to expect on their trip, what businesses are open, and where they can find handwashing stations to maintain good hygiene habits. Traverse City Tourism also ran a contest through Instagram that encouraged travelers to take selfies with their masks on and use the hashtag #staysafetc to enter to win gift cards.
The Results
Across Display & Video tactics, over 332k clicks and 51.5M impressions were delivered. These numbers translated to 5,700 room nights, totaling $1.2M in gross revenue.
Explore St. Louis
The team at Explore St. Louis looked at their COVID-19 Recovery efforts in a three-tiered process— modeling after much of the country's approach to reopening. Each phase lasted for approximately two weeks with the target audience expanding each week.

The Creative
When it came time to decide what imagery would be represented across media campaigns, the team opted to showcase mask-wearing as responsible and safe travel was a main goal of the campaign. This set the destination at the forefront of promoting safety, solidifying to prospective visitors that St. Louis was taking active precautions and following social distancing measures.
In addition to staged photo shoots for use across media, user-generated content was collected to showcase real people masking up while out exploring St. Louis. The team also created "Yes We're Open" signs that attractions, shops, restaurants, and hotels could utilize in their promotions.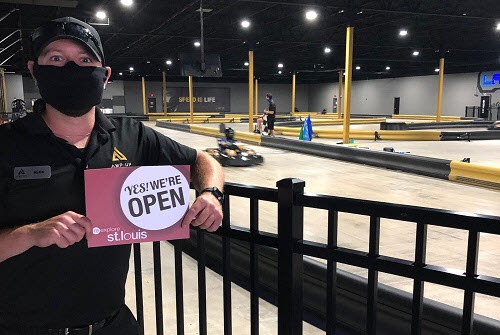 The Results
The main goal of this recovery campaign was to drive traffic to ExploreStLouis.com, generating awareness of their "Passport to STL" offerings. Within the first week of the campaign, over a million impressions were delivered to the site, and it only increased from there. In Phase 2, the team saw an average of 5.5M impressions in the first week, skyrocketing to nearly 7M impressions in week two.
In the first three weeks of the COVID-19 recovery efforts, traffic to the site that was directed from the campaign made up 15% of total site traffic. In Phase 3, that breakdown has grown to more than 60% of total site traffic.