2021 Valdosta Travel Guide
advertising rates & information
Connect with your community in Valdosta
The Valdosta Travel Guide delivers the best of Valdosta, Ga to interested travelers. The guide is the best source for travelers selecting where to stay, where to go, and what to do while planning and visiting.
40,000 printed copies distributed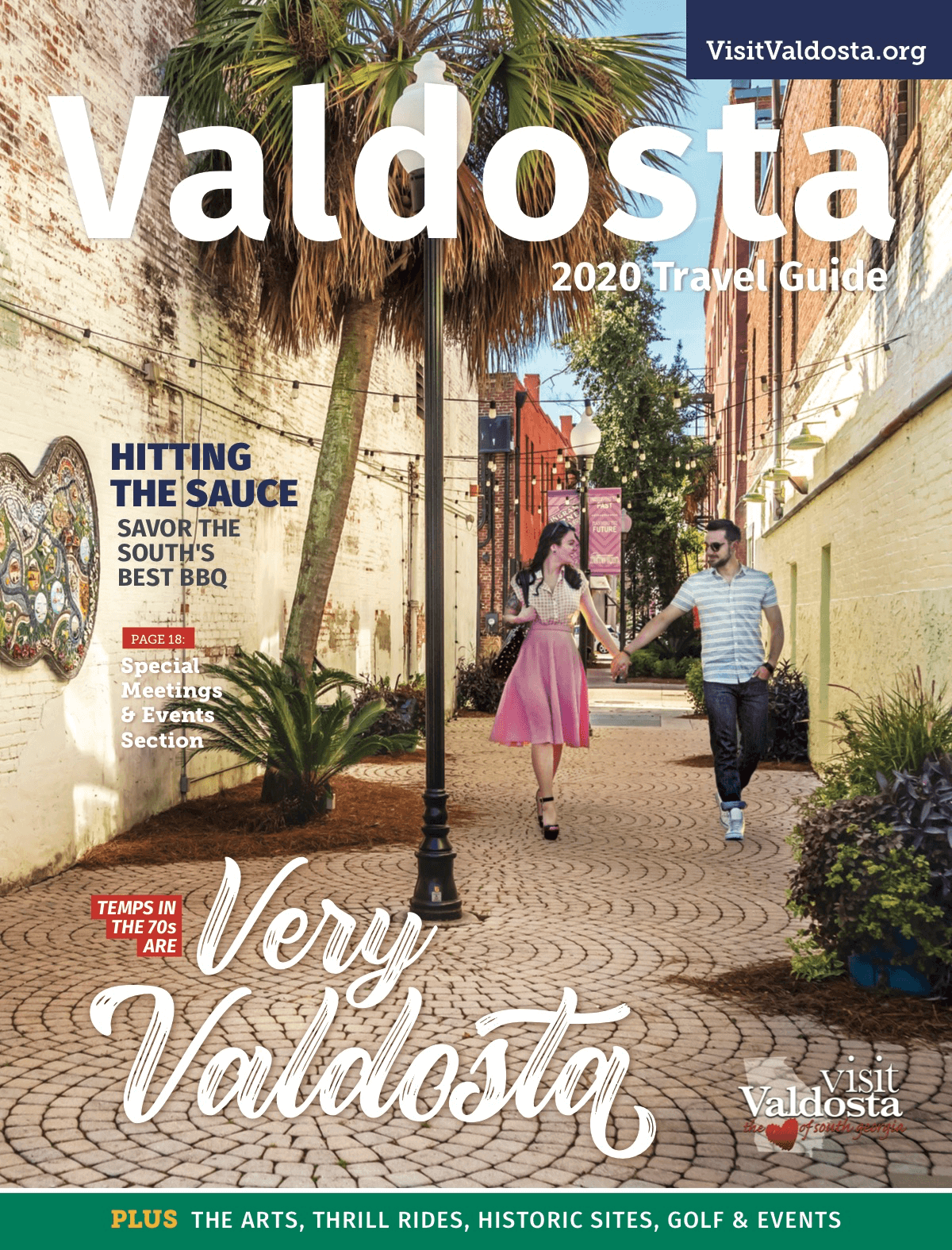 Digital and Print Working Hand-in-Hand
The exclusive fulfillment piece when potential visitors and event planners request information.
Digital media impacts the way we live and work. From simple household tasks to the way professionals conduct business, there has been a drastic shift in routine. While on the surface level it may seem as if screens control our daily lives, it's important to remember the power of print and how it complements your digital and omni-channel marketing efforts. The statistics show that consumers still enjoy taking time to flip through crisp pages of colorful images and engaging words that paint vivid pictures in readers' minds.
Additional distribution includes:
All state Visitor Information Centers

Many other welcome centers across the state

Nearly 75 hotels and campgrounds throughout the I-75 corridor

Businesses hosting dignitaries, groups, or clients
Deliverables
40,000 printed copies
Mobile-friendly digital edition
Slot in brochure rack at the Rainwater Conference Center
Featured listings
Featured listings are highlighted to standout and include 15 words of copy. First come, first served. Featured listings are capped at three per category.
---
Tourism Recovery Plan
In order to exclusively feature tourism activities, advertisers must promote attractions, restaurants, shops, and events that are open to the general public.
contact us
Director of Business Development
Inside Sales Representative
for materials specifications:
1(800)-444-8768
materials@maddenmedia.com
Sign Up Now
Program Rates & Deadlines
Sign up By:

October 1, 2020

Materials Due:

October 12, 2020

Publication Date:

January 29, 2020
Standard Position
Premium Placement
Other Options
| Ad Rate | Net |
| --- | --- |
| Full Page | $3,695 |
| 1/2 Page | $2,095 |
| 1/4 Page | $1,295 |