Madden creates meetings marketing strategies that hone in on the ideal target conferences for your destination and builds strong relationships with meetings and event planners.
Business Travel Growth
The time is now to start developing your meetings marketing campaigns.
The U.S. Travel Association forecasts a 34% average YOY growth for domestic business travel over the next four years
The same forecast projects $77 billion in new business travel spending next year
Fish with Spears
We leverage the principles of account-based marketing to grow the life of your leads. We will "fish with spears" and identify the ideal target conferences and events for your destination. We will target those meeting planners and create lookalike target audiences based on those travel-intents and origin markets.
By analyzing your destination's economy, talent, and meeting facilities, you can:
Identify the top target industries, conferences, and events that fit your destination
Emphasize quality over quantity and increase conversions
Establish better long-term relationships with sponsors in relevant industries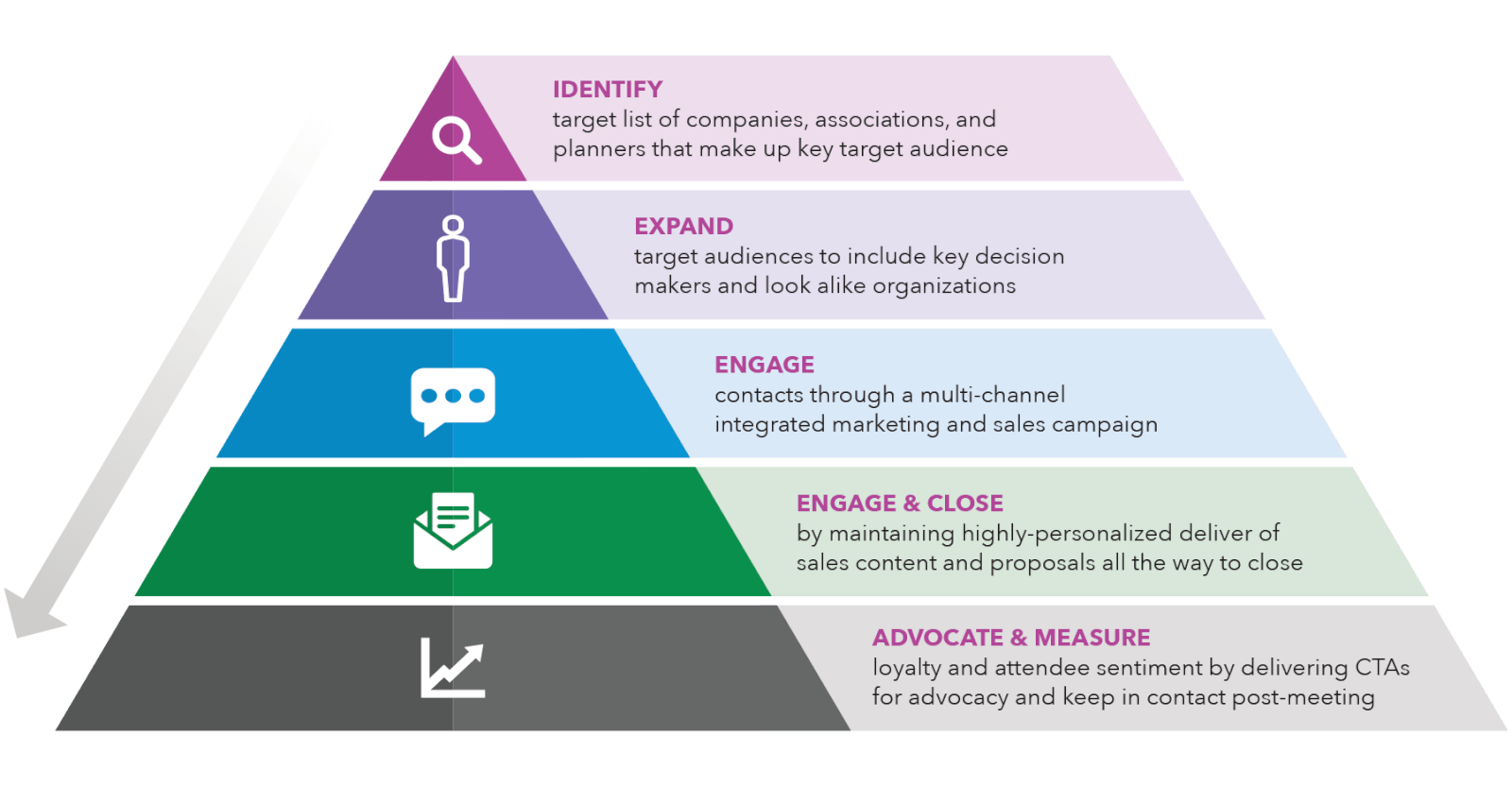 Creative Collateral and Advertising
Providing your sales team with unique collateral that pairs inspirational and educational content will help them grow leads. Additionally, we recommend deploying traditional and digital advertisements that raise awareness of your destination's amazing experiences and creating engaging content that shows off your unique meeting settings and attractions. The help decision makers see themselves holding a meeting in your destination.
Map the Decision-Making Journey
Use smart marketing tactics to deliver key messaging to decision makers where they are during key stages of their meeting planning.
Geofencing and remarketing attendees of meeting planner conferences
Partnering with vendors that enable you to target people based on their job title
Develop automated drip campaigns based on lead interaction with your emails and website
Deploy citywide experiences and activations during conferences





Traverse City
Our research revealed that meetings planners tend to choose where to host their meetings based on what activities attendees could do after the event. With Traverse City, we created a video and first-person content that showcased the different experiences attendees could do after a meeting. The story included CTAs that led meeting planners to learn more about booking in Traverse City. We deployed LinkedIn Ads, targeting people by their job title, as well as Facebook and SEM ads to amplify the story. The campaign resulted in 10,000+ total website sessions with time-on-page rates 132% higher than site average. The campaign yielded 1.8 million+ impressions to the specifically targeted business audience, achieving the goal of increased awareness and consideration of Traverse City as a meeting destination.
Visit The Woodlands
Working with Visit The Woodlands, Madden developed an immersive story tailored to meeting planners about the seamless experience of hosting an event in the destination. Amplifying the story through native advertising, SEM, and Google Display ads, we generated over 8,500 clicks (200%+ of goal achieved).

We also developed a Geofencing campaign to target users who had attended major meeting and event planner conferences with prospecting and remarketing banner ads. This tactic generated over 1 million impressions and 5,900+ page views to our meeting story from qualified users.
Experience Columbus
We partnered with Experience Columbus to showcase what made their destination a prime location to hold meetings. We created a custom, first-person narrative story about a professional attending a meeting in Columbus. The inviting, mobile-friendly design provided links to each referenced activity and accompanying photos that complement the story. Using LinkedIn Content Distribution and Google Display Ads, we generated the following results for Experience Columbus:
370+ LinkedIn clicks
79,400+ LinkedIn impressions
1,000+ Google clicks
1,000,00+ Google impressions
92%+ increase in new site visits
8:00+ average time on page
Measure Success
To track the success of your meetings marketing campaigns, Madden provides Voyage, our destination intelligence platform, to track your success and communicate impact. With its customizable dashboards, you can track the number of attendees, ADR, ticket sales, and more to capture the economic impact of your meeting marketing efforts. We can also help run post-meetings surveys to help answer economic questions and forecast future events.
Reach out today to start developing your meetings marketing campaign.