 VISIT IDAHO
"Beyond Words" Campaign
Situation
Visit Idaho set out to reach audiences at every stage of their planning journey and inspire them to successfully book their trip to Idaho. By the numbers, we hoped to increase tax revenue and maximize economic impact with a lodging growth goal of 10% in 2022. More booked trips leads to increased bed tax collections for Visit Idaho, which ultimately brings economic growth to the state.
Approach
Our goal was to create a multiyear campaign for Visit Idaho that was deeply versatile at its core, transforming to suit their target travelers, vast adventures, all four seasons, and the diverse geography across the entire state. We wanted to cut through the noise of advertising to reach consumers as they began to plan their trips, and educate them about the opportunity for adventure found throughout Idaho. This was "Beyond Words."

We created this campaign to highlight the multisensory experience of travel in Idaho. Visit Idaho identified that the most impactful moments within a journey are often reflected in the emotional reactions and personal associations that travelers come to develop with a destination. By demonstrating a balance between those intimate moments in a trip and the grand, often indescribable views of natural Idaho, the campaign creative shows the audience that Idaho is "Beyond Words" for many reasons. In the process of emphasizing what is inherently indescribable, the interpretation of Beyond Words becomes diversified and distinctive to each individual and their experiences across the state.

Beyond Words showcases Idaho with tight action shots and breathtaking macro shots that bring to life the vision of this campaign across all digital platforms. In planning and execution for messaging, the five senses play a major role. By focusing on the taste of a locally brewed beer on a summer afternoon, the feeling of diving into the brisk water of a mountain lake, or the smell of the campfire reaching your nose as you wind down your day, the result prompts a desire to slow down and reconnect with authentic moments in travel that you can only experience in Idaho. This evergreen campaign intends to inspire families, outdoor enthusiasts, road-trippers and travel buffs to view the VisitIdaho.org website and book their vacation.
Results
Inspiring assets
Campaign assets featured both sweeping, scenic macro shots and micro-sensory moments captured up close. Together, these assets represented the wide-open spaces and peaceful moments that visitors can expect from a trip to Idaho.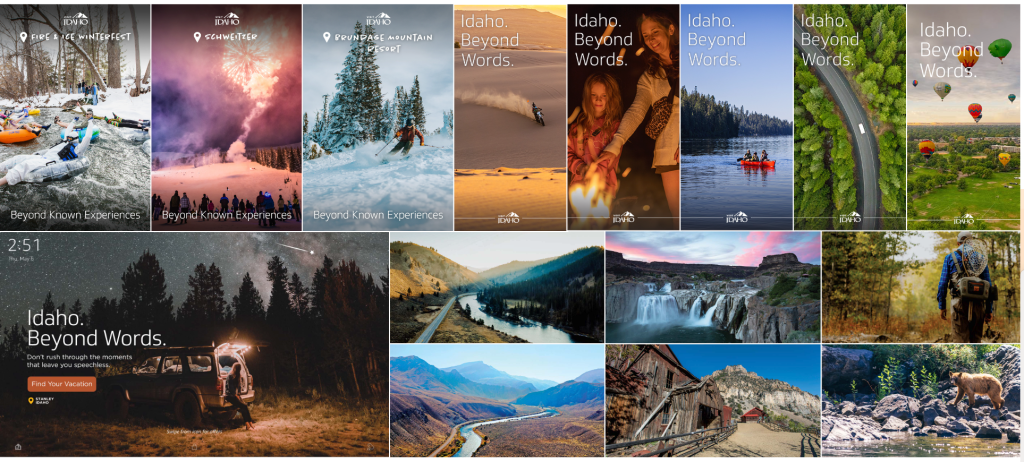 integrated media buying
We translated the essence of Beyond Words across digital media through animated banner ads, video advertising with quiet yet impactful ASMR-like compilations, and the use of stunning visuals throughout print publications and landing pages.