Dude, Where's My Carvertise?: Modern OOH Advertising
February 15, 2023
By John Bridges, Media Director
With the increase of ride-sharing services like Uber and Lyft and the use of delivery services like DoorDash and GrubHub, there are more privately-owned cars staying on the road longer. This opportunity was not lost on services like Carvertise who have commissioned these drivers to wrap their cars in advertising messages. As these vehicles drive around populated areas, they have an impact as they stand out from the rest of traffic and are always eye-level for anyone on the street, driving around, or using the services.
Swarms aren't just for Insects
Advertisers can have their fleet of wrapped vehicles drive around high-traffic or targeted areas. This can include things like sporting events, concerts, trade shows, or even holiday events. This is referred to as a "swarm" and allows advertisers to get maximum exposure in places they most desire for short periods of time.
Turn Real-World Exposure into online engagement
Every car contracted with Carvertise has GPS trackers onboard, which collect device IDs of those in and around the vehicles. This technology lets advertisers serve ads directly to that exposed audience on their mobile devices through search, social, and in-app ads. This technology is not just limited to ads, but can also provide an insight to if exposed devices visited the advertised website. This analysis allows advertisers to see website lift and campaign effectiveness of an out-of-home campaign not possible in the past.
A Perfect Place for DMO's
On average, Americans with higher incomes use rideshare services and rideshare services are found more often at ideal travel locations, like airports, hotels, train stations, and iconic tourist spots. This makes Carvertise a perfect solution for any DMO looking to make an impact in target markets to influence travel.
On top of all that, the ability to provide targeted advertising, and provide the ability to track performance to ensure those ad dollars are being maximized, makes this out-of-home solution a no brainer. Additionally, services like Carvertise are not limited to leisure travel. Carvertise can help make a splash at trade shows like Connect Marketplace or ASAE and increase awareness for those much sought after meeting planners.
Madden Has Your Back
Madden has worked with many clients who have looked for a new, fresh, technology focused OOH solution and Carvertise has been there. Using Carvertise, Valley Forge CVB was able to achieve increased exposure in the Washington D.C market for three months during the summer of 2022. They utilized "Swarms" during target baseball games between the Washington Nationals and the Philadelphia Phillies, as well as the highly populated and common travel spot of the National Mall on 4th of July. This strategy provided a perfectly targeted audience for future travel in Pennsylvania and provided larger exposure for which Valley Forge CVB was looking.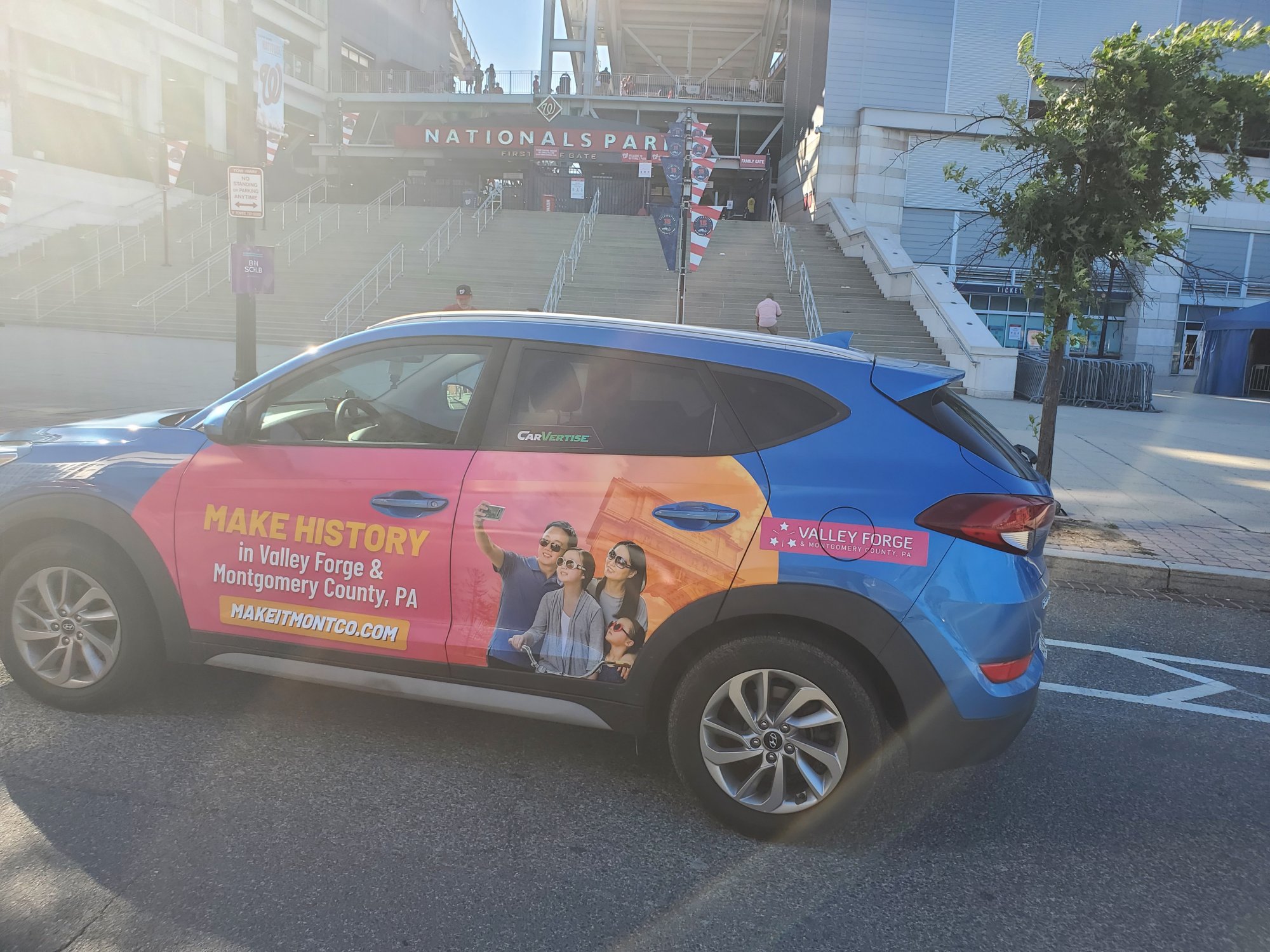 Connect in the Real World
Users have digital advertising fatigue. Many studies show that few digital ads are remembered by users. DMOs must look to deploy holistic marketing tactics. This approach builds an integrated brand ecosystem — blending ads in the digital world with the real world — and increasing the chances their brand is remembered. Carvertise presents an opportunity for DMOs to connect with travelers in the real world and fill in that part of their brand ecosystem.