Investing in destination intelligence is vital to evolving your KPIs and enhancing your situational awareness
Voyage is Madden's industry-leading, destination intelligence platform. The data analysis tool enables DMOs to inform strategies, measure impact, and fulfill their fiduciary duty—all at an affordable cost.
You already have a baseline understanding of your destination and your travelers, but Voyage can uncover new insights that change your team's mindset, such as revealing a top origin market you didn't know about or a well-traveled point of interest that could lead to marketing opportunities.
It is also vital for destinations to evolve their performance metrics beyond traditional key performance indicators. Your work is so much more than clicks and impressions. Voyage will help you shift towards measuring your work by key performance impacts, such as visits from key markets and tourism-related revenue.
1
Visitation Intelligence Report
Powered by industry-leading location data services, you'll gain up-to-date information about your destination.
Top Origin Markets
Visitors' Average Length of Stay
Most Popular Locations
Repeat Visitations
Opportunity Markets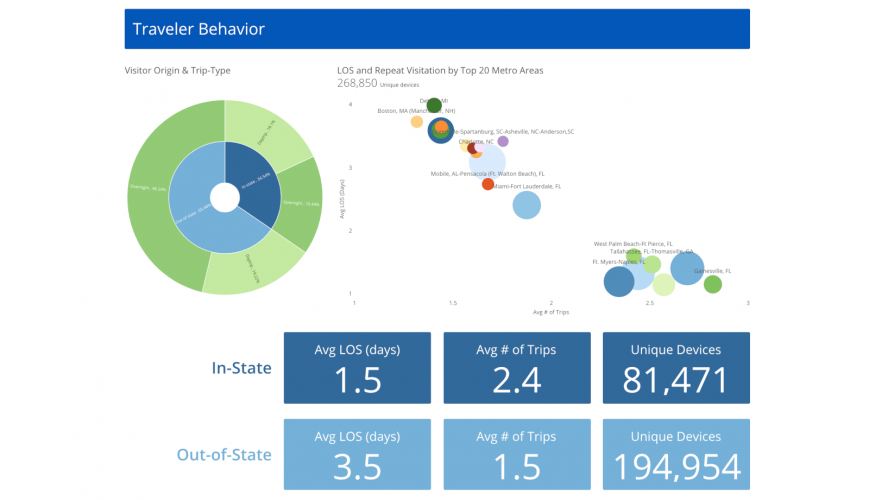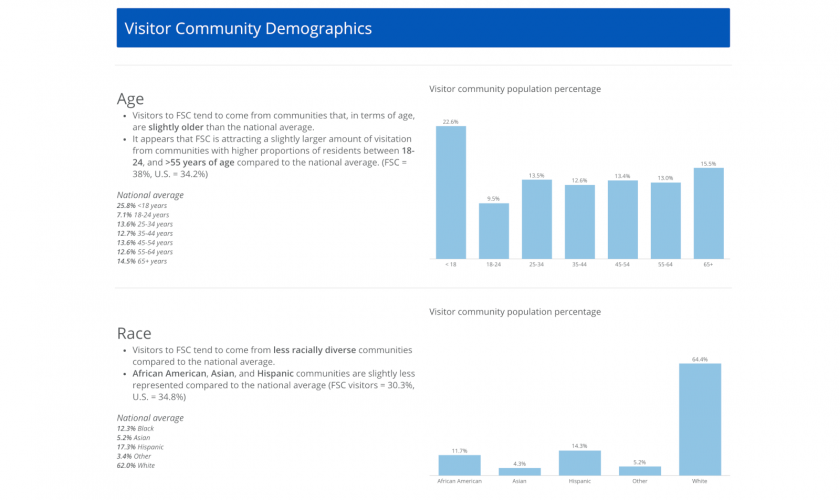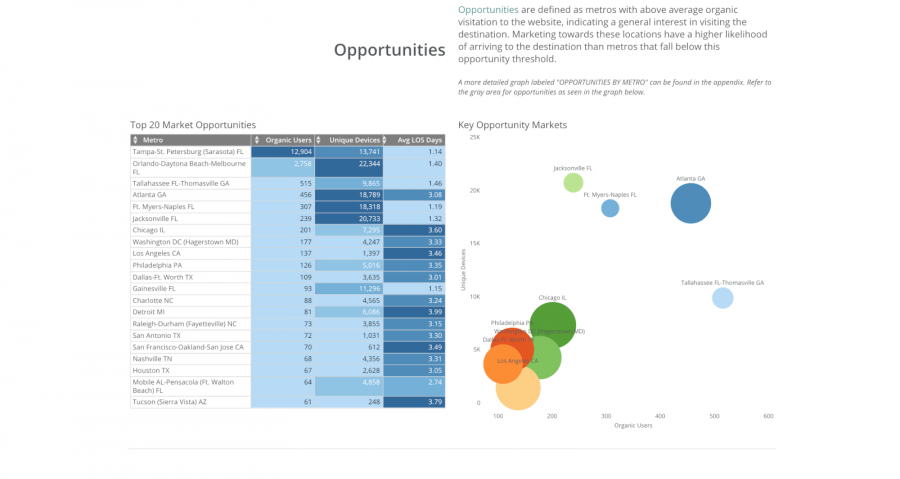 2
Executive Summary
Find all your information in one convenient and easily explored location. Concise, customized and monthly updated executive dashboard that includes the most pertinent information on marketing performance.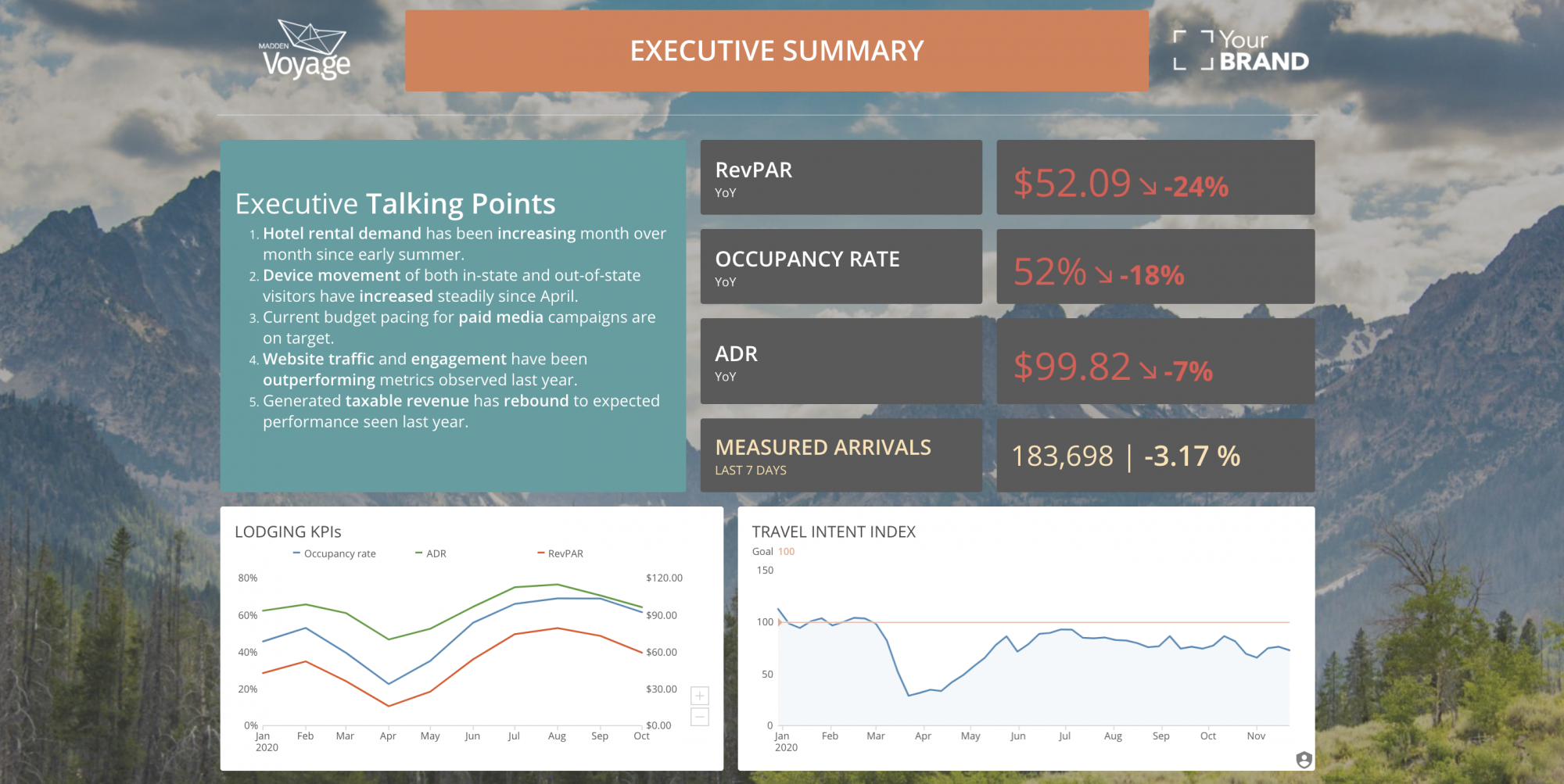 3
Marketing Performance & Insights
Determine how effectively you're reaching people:
Measurement across paid media, website, social media and PR channels
Digital campaign attribution data (available on a per campaign basis)
Enhanced SEM insights
Layered data visualizations
Ad Effectiveness Studies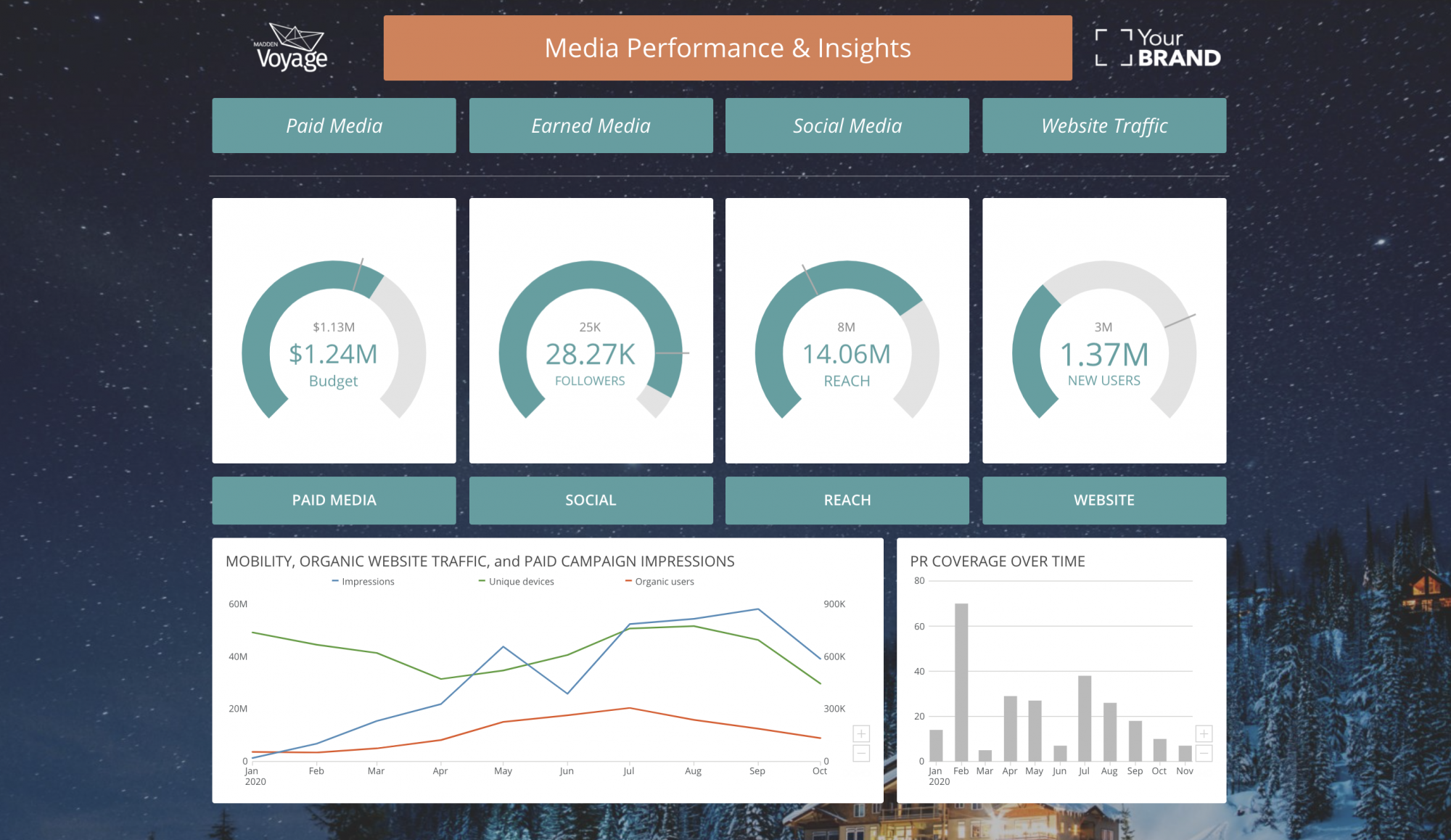 4
Hotel & Lodging Insights
Analyze the overnight stays in your destination:
Integrated hotel and short term rental reports
Subscription to AirDNA's industry leading short term rental data
Quarterly and monthly options for analysis of your hotel and lodging data, with written reports
Correlation between hotel demand or short term rental performance correlates with marketing spend or overall visitation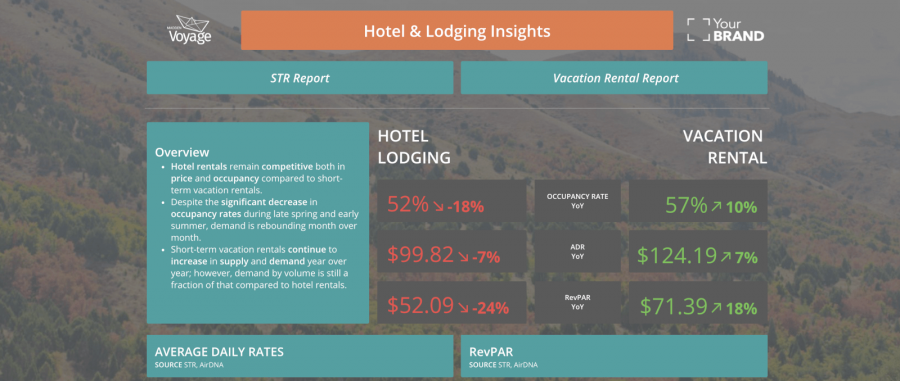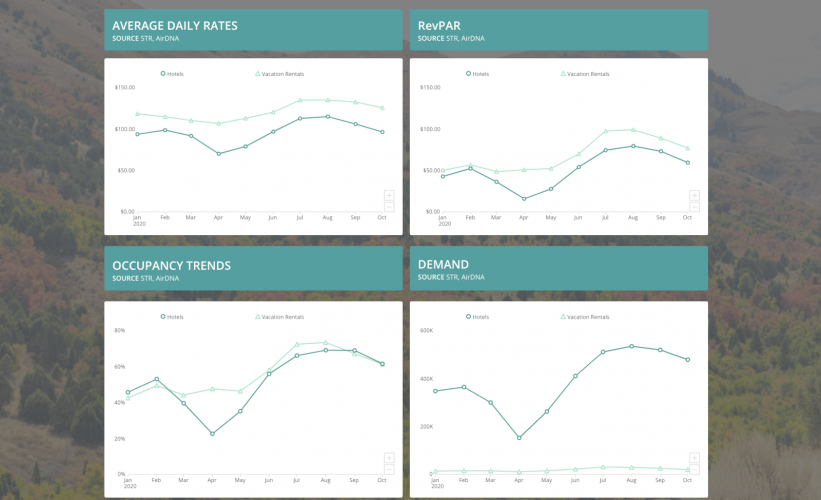 5
Visitor Spend
Track in-market spending:
Access visitor spending data sourced from 3,000+ financial institutions and 100M+ debit and credit cards
Gain insights on spending behaviors across a comprehensive set of merchant categories
Analyze spending trends between demographics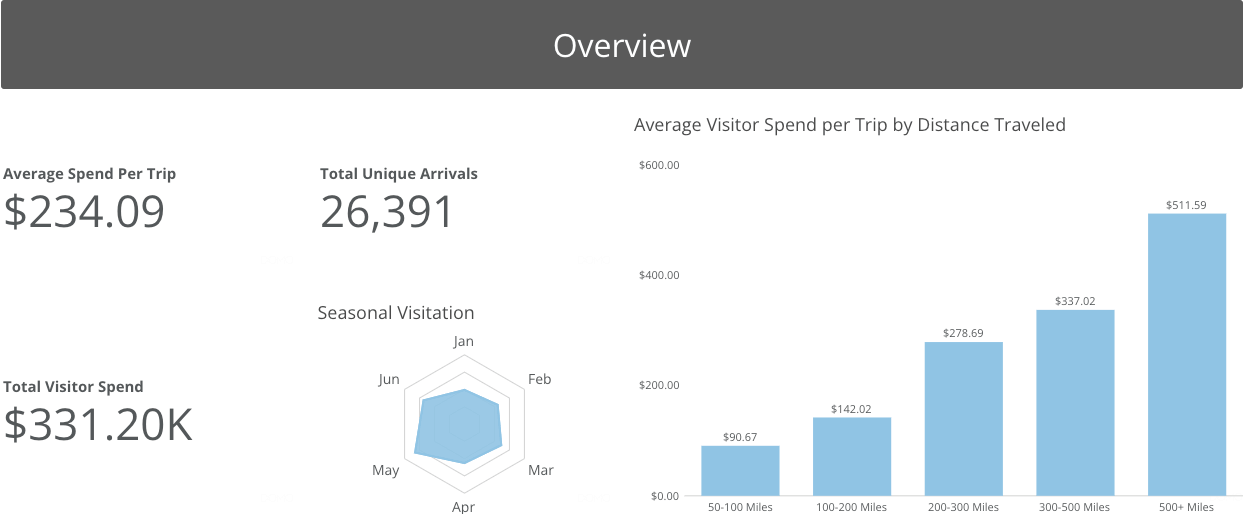 6
Event Measurement
Capture the impact of local events:
Access data that measures the impact of local events, such as festivals, concerts, sports, conferences, and more
Track which events attract visitors from different origin markets versus locals
Forecast attendance and length of visitor stay for future events
Analyze top event venues with estimated total attendance
Gain insights on market compression due to planned future event attendance


7
Competitive Intelligence
See how your destination compares to your competitors:
Insight into your competitive sets marketing strategies
SEM competitive set analysis
Website performance benchmarking
Share of market analysis: how is your destination performing against your competitive set for visitation from specific markets

8
Economic, Civic, & Government Insights
See how you're impacting the local economy:
Quarterly processing and archiving of local tax data
Visualization and archiving of the client's economic impact and forecasting reports
National and state (if available) job trends visualized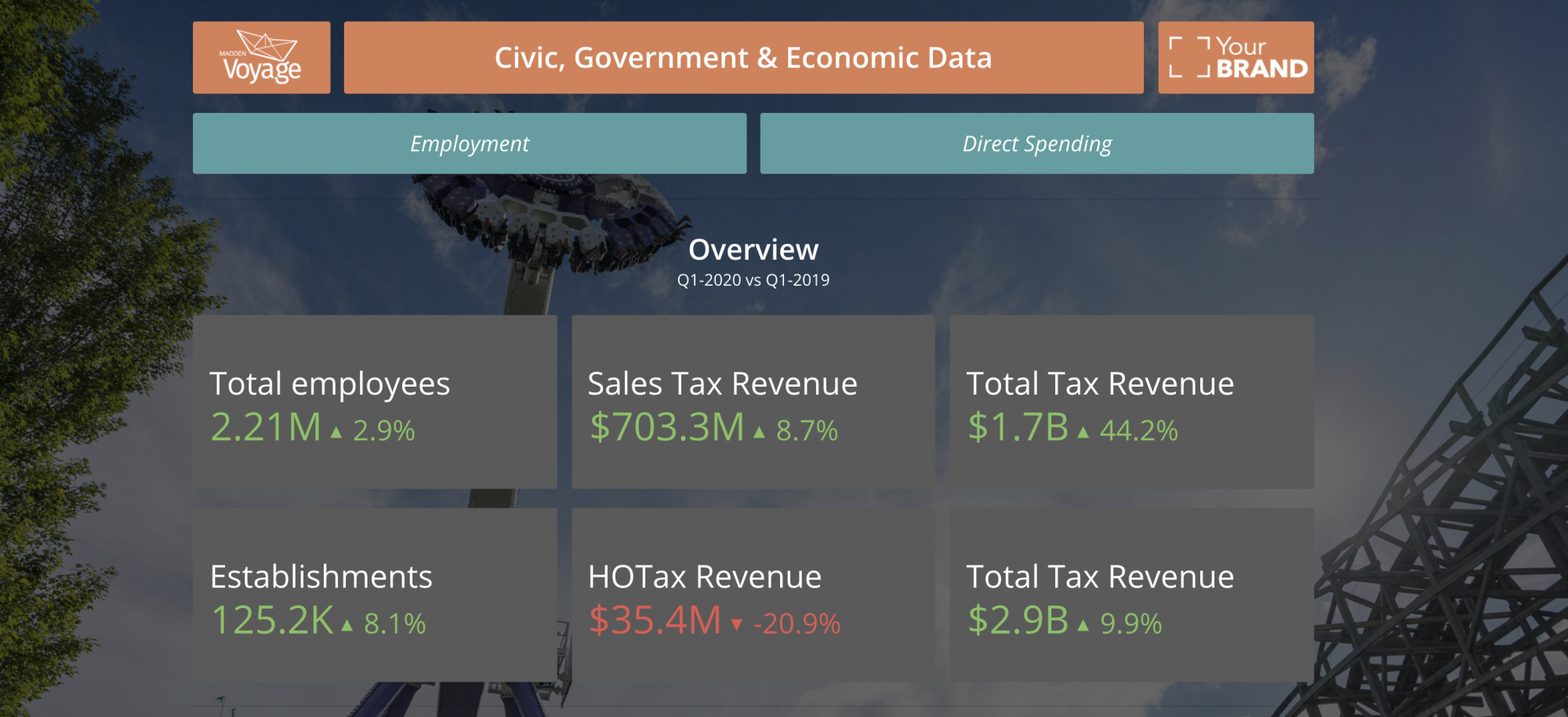 Custom Data Projects
It's vital to collect destination intelligence, however, putting insights derived from data into action is more important. Using insights from Voyage, one of Madden's Midwest clients was able to find high correlation between the DMO's paid efforts and short term rental stays in their destination. Equipped with data visualizations exported from Voyage, the DMO was able to begin conversations with its state legislator on potentially collecting short term rental tax.
If you are looking for custom research or analytics, ask our team how we can use data to provide answers for you and your stakeholders.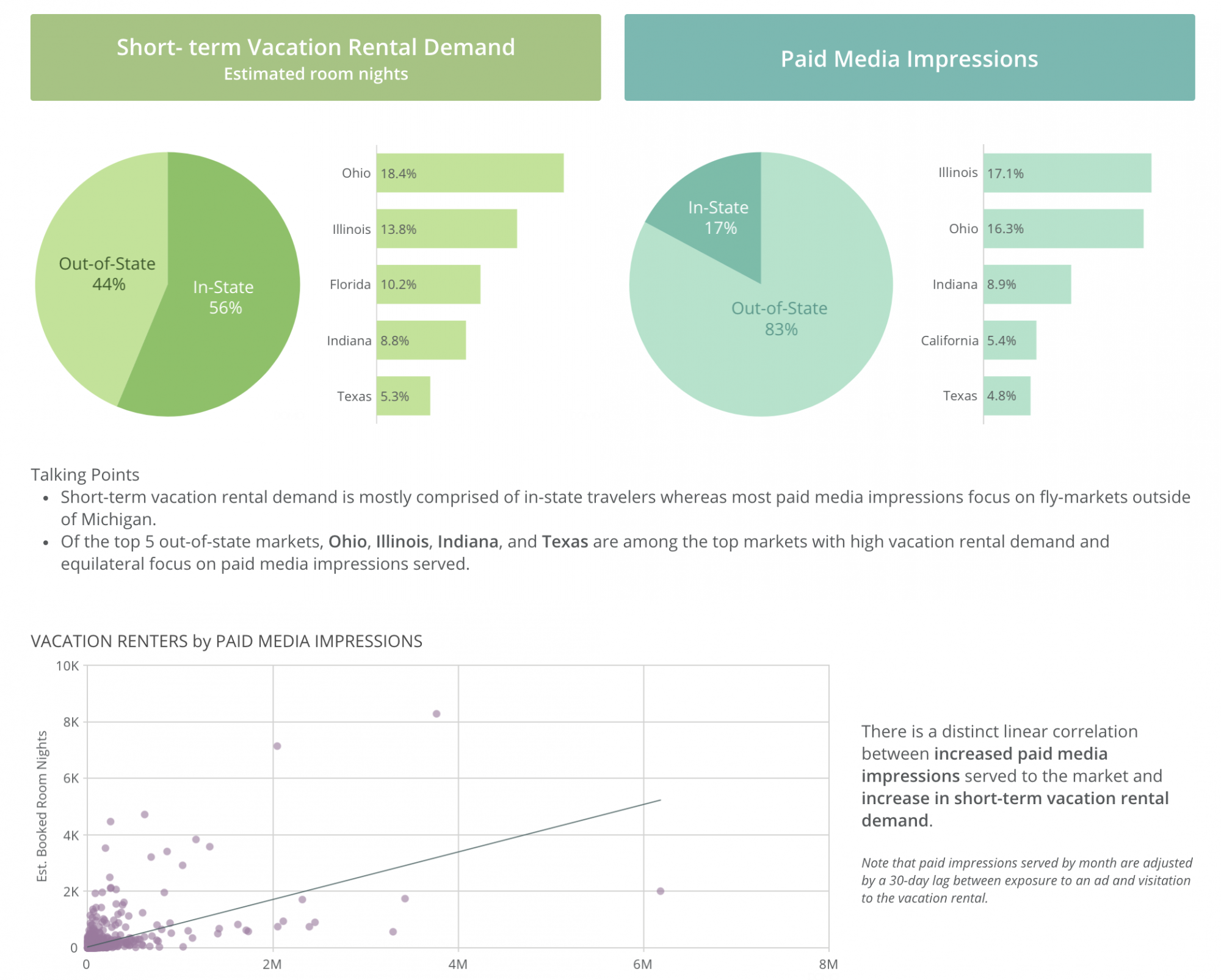 Find the right Voyage solution for your destination.