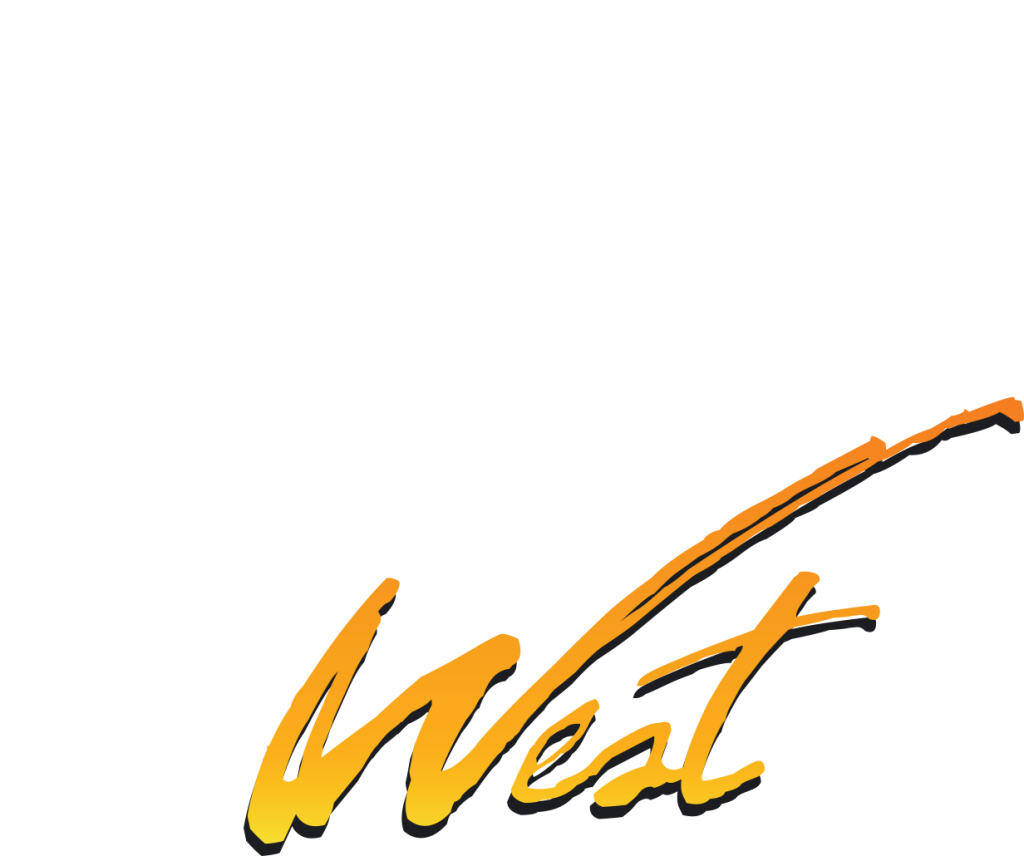 GRAND CANYON WEST
"Ignite the Spirit" Campaign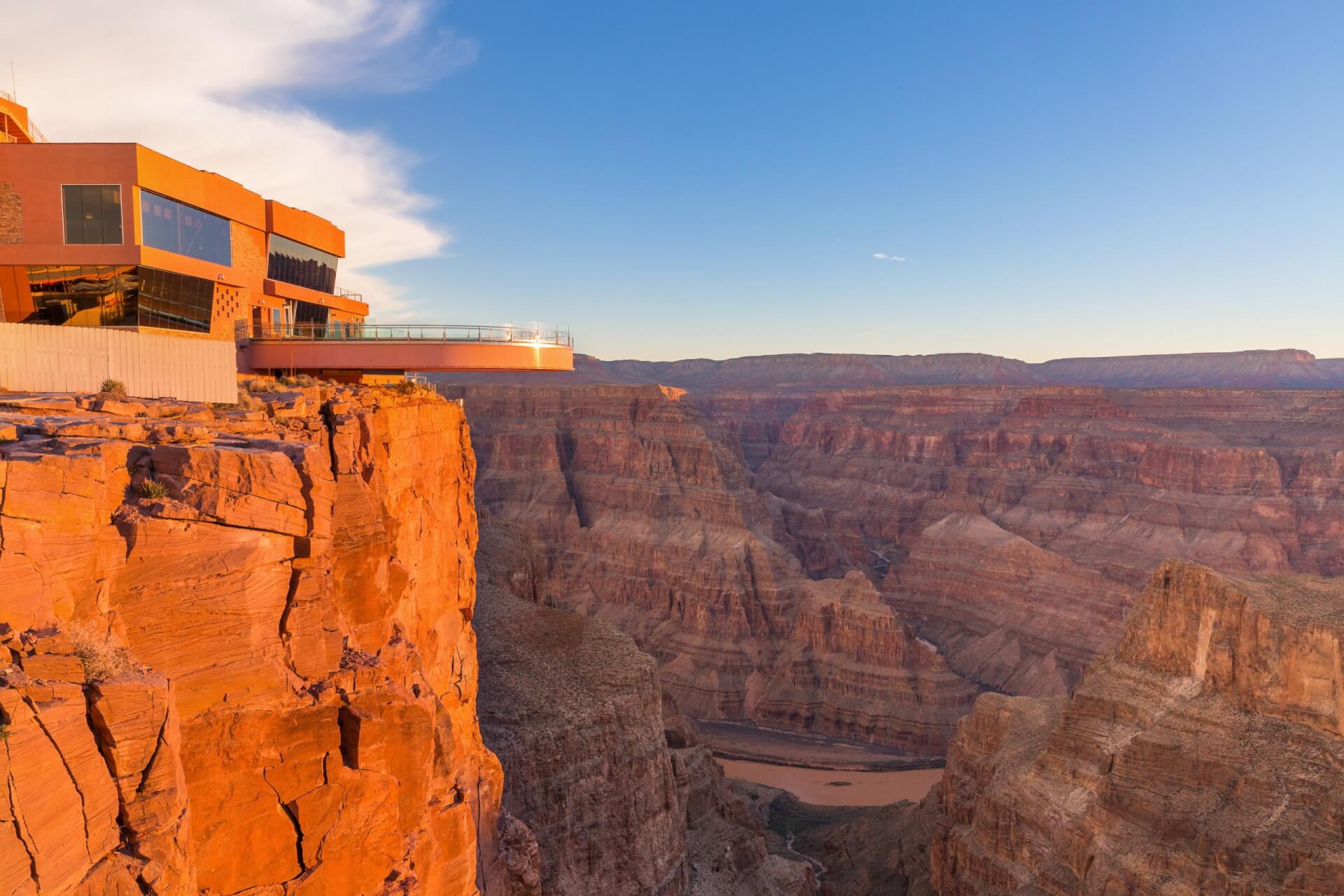 Situation
Grand Canyon West is an attraction that includes the signature Skywalk, a cantilever glass bridge, and Hualapai River Runners, a tour service that allows visitors to raft the Colorado River. Grand Canyon West wanted to increase ticket sales while distinguishing the attraction as separate from the Grand Canyon National Park and to educate visitors about Hualapai culture. They also wanted to be able to engage with visitors while at the attraction and during their trip planning process.
Approach
The campaign highlighted the Hualapai Tribe's culture and traditions, and asked travelers to explore the tribe's heritage while participating in adrenaline-pumping experiences. The website evolved to include more clear options for packages and pricing on the Skywalk, river rafting, zipline, and cabins.

Since the culture of the Hualapai people is part of what makes Grand Canyon West so unique, we needed to learn from them before we could incorporate their culture into any marketing campaigns we created for the attraction.

For the first time, the tribe opened their hearts and their homes to the media—allowing our team to share their story. Our team worked closely with the community members to respectfully bring their story to life and to not only educate visitors, but to also help them form a connection with the land and the people who call it home.

Armed with a new understanding of Grand Canyon West, our team developed a mobile app and wove the stories of the community into it. The purpose behind the app was twofold—to guide visitors in their planning stages, increasing ticket sales across the attraction's offerings and to engage with and educate visitors while at the attraction.

We paired this with a campaign utilizing Performance Max, using Google's Responsive Ad automation across high-impact placements, such as Gmail, YouTube, and Search Network with creative assets that conform to the audience and site they're showing on to drive an increase in campaign objectives, such as ticket sales. Our media team worked behind the scenes, optimizing the campaign to attain a specific Return on Ad Spend (ROAS) and users who were most likely to purchase tickets for Grand Canyon West.
Results

DIGITAL MEDIA BUYING
From responsive ad units to smart targeting with machine-learning technology that combines images and messaging built for individual users at their personal stage of the planning cycle, the campaign explored the latest technology for capturing attention and inspiring visitation.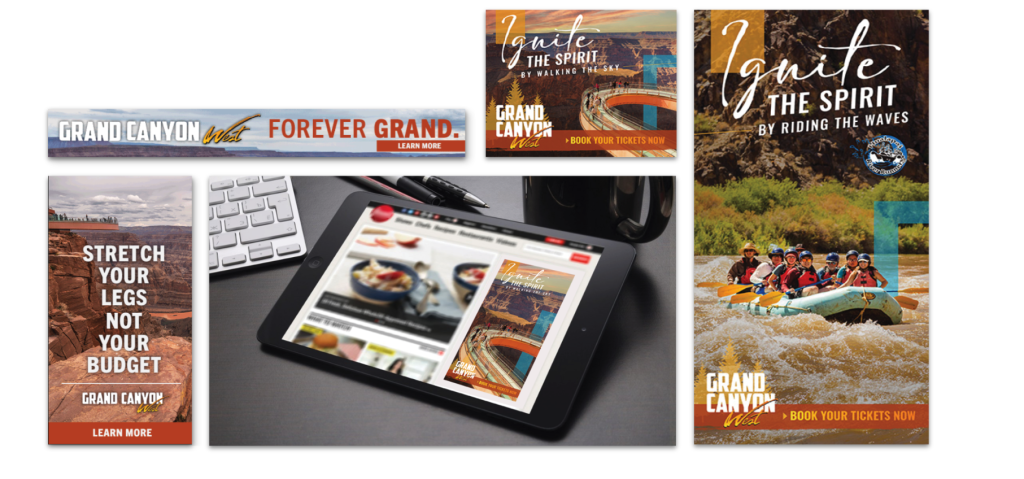 Print Advertising
We established new print ad templates and guidelines to highlight different brand pillars and promote inspirational imagery.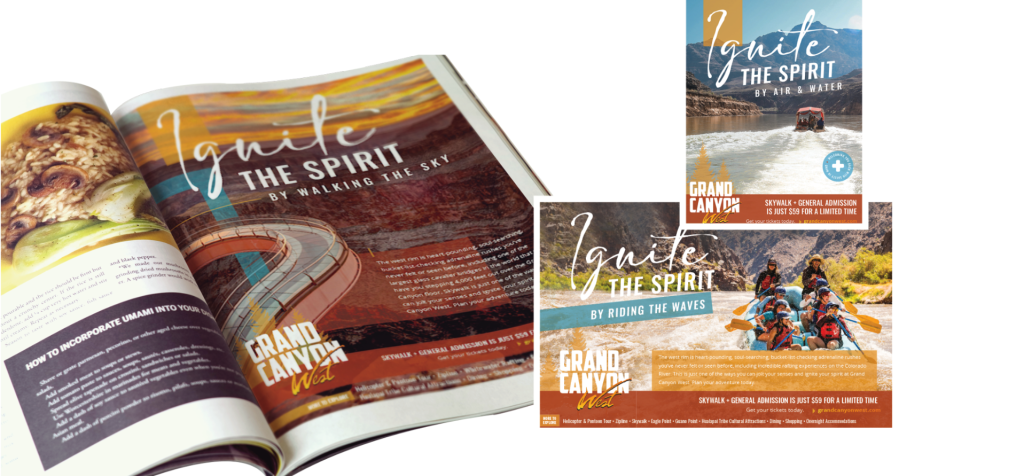 website enhancements
We simplified the presentation of the attractions, flowed in the messaging of the Hualapai Tribe throughout, and offered more convenient packages to pre-planning visitors.