Missouri's Katy Trail
Co-Op Program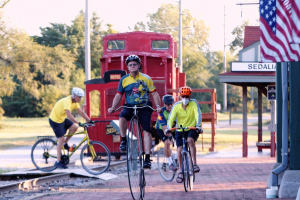 Situation
Missouri cities Washington, Hermann, Jefferson City, and Sedalia came together to partner and promote the Katy Trail, the country's longest rails-to-trails conversion, and its alignment with the local Amtrak service. This four city cooperative campaign aimed to develop a united brand concept that equally showcases all partners and inspires travelers to visit.
Approach
For this co-op campaign, we created a brand identity that was based around iconography already associated with the Missouri-Kansas-Texas (MKT) Railway and, more broadly, railroads in general. The shade of red used is also iconic of the MKT and is successful in grabbing the attention of potential visitors. Rounding out the palette, additional colors were selected from other examples of signage—each city was also assigned a color for the purpose of identifying one stop from another.

We chose to use a font that was inspired by the US Federal Highway Administration to strengthen the association with the railroad in visitors' minds, as well as assist in carrying the same theme across all of the additional brand elements. Once we had the brand basics in order, we created custom logos to represent each of the four cities while keeping a cohesive look and feel. With the main logo as a guide, we created additional marks for each partner CVB that participated in the co-op.

The final element of the Katy Trail campaign was a video and photography shoot, which Madden produced into an inspiring campaign video. All of the branding and creative elements came together to create an informative microsite that guides the user through each stop. Digital advertising tactics drove users to Washington, Hermann, Jefferson City, and Sedalia landing pages that supplied travelers with recommendations for things to do and places to visit while making their way down the Katy Trail.
Results