Influencers and TikTok: How DMOs Can Connect with Young Travelers
November 2, 2022
While TikTok grew in popularity during the pandemic, travel and foodie influencers weren't able to take immediate advantage of the fast growing platform. The initial public health guidelines kept people from traveling or visiting restaurants, so TikTok was immediately filled with tourism industry content as its user base rapidly expanded.
More Generation Z consumers use TikTok than Instagram in the U.S. and Millennials are 30% more likely to trust user generated content (UGC) compared to older generations. Now, as the pandemic wanes from the top of travelers' minds, DMOs and hospitality brands are making plans to leverage TikTok to connect with younger travelers.
It's important for DMOs to plot a long-term strategy and allocate budget to get their brand on the platform while creating authentic content that resonates with Millennials and Gen Z travelers. Our team worked with Visit Tampa Bay and the Finger Lakes Regional Tourism Council to achieve that very goal.
Tick Tock, Time to get on TikTok
The Finger Lakes Regional Tourism Council, which comprises 14 counties, wanted to host a digital content creator trip to use influencers to elevate the many offerings of the region to their target audiences. Our team utilized Tagger, an influencer marketing platform, to identify creators that focused on the Finger Lakes' core pillars of outdoors adventures, small town exploration, and craft beverages.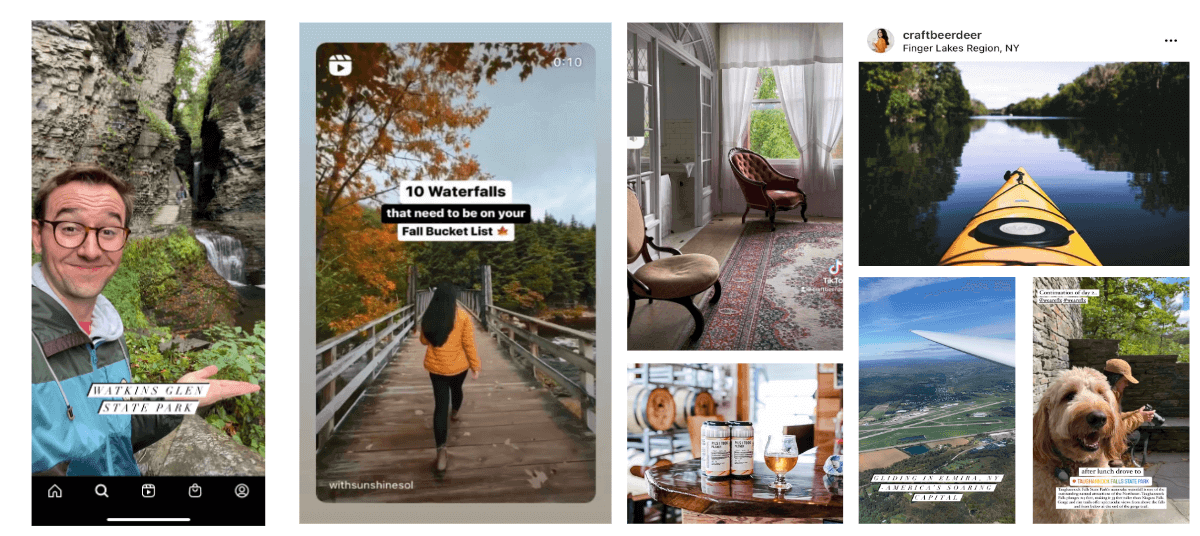 Our team curated multiple itineraries that touched all but three counties within the Finger Lakes to amplify those strategic missions in their key travel markets. We were able to highlight story lines of waterfall exploration, craft beverages mixed with adventure, and the specialities of the area's small towns through TikTok posts, as well as daily Instagram stories, short form videos, posts, and blogs.
Results
128 Posts over three days
352,000 impressions
Potential Reach of 7 Million+ accounts
Over $267,000 in earned media value
Create Influencer Worthy Experiences
Visit Tampa Bay was recently awarded Michelin Star City Status with 19 restaurants in the region receiving Michelin recommended ratings. Visit Tampa Bay wanted to build awareness and generate consumer buzz of their new elevated status in the highly recognized culinary destination, New York.
Our team curated a unique and custom Visit Tampa Bay destination takeover at Smorgasburg, one of the most popular food festivals in New York. An immersive pop-up was created to highlight Ybor City in Tampa with on-site sampling of the iconic Cuban sandwich. To generate consumer buzz and build third party credibility, we partnered with three influencers to create on-site content of the activation highlighting the food and destination offerings. One influencer traveled to Visit Tampa Bay prior to the event for an immersive experience to the destination's food scene.
Results Pre-Event
42 posts
Over 227,000 impressions
Over 1.2M video views
Over 36,000 engagements
Over $545,000 in earned media value
Results During Event 
22 posts
Over 184,000 impressions
Over 80,000 video views
Over 1,600 engagements
Over $92,600 in Earned Media Value
Creator Economy
The media landscape is shifting. Consumers' eyeballs are turning to digital channels. There are only eight TV networks with over one million primetime viewers, but TikTok has over 1 billion monthly active users internationally, and counting.
By keeping our finger on the pulse of the media industry, we can ensure your media plan is tailored to meet users where they are showing up — right now that's video-centered digital channels. To make your media spend impactful, your brand needs to have a meaningful presence on TikTok and other popular social media platforms.
Our digital media strategists and PR experts and creating relationships with influencers everyday. Reach out to see if there are any who can help elevate your brand.