2022 Predictions Series: A Look Back at 2021
January 3, 2022
In the decade preceding the pandemic, the travel industry enjoyed unsurpassed growth. Business was good. March 2020, the world rapidly changed, and in less than two years, the tourism industry entered a new era of destination marketing. As modern media and consumer buying behavior shifted, so did we. Join us as we look back at some of 2021's highlights.
VISIT TAMPA BAY: Unlock Your Inner Pirate Campaign
With more than a double-digit increase in hours watched by consumers across all platforms, there was nothing more important than video in 2021. That's why when Visit Tampa Bay wanted to attract more Gen Z and Millennial travelers, we had just the answer. Madden partnered with Visit Tampa Bay to create the "Unlock Your Inner Pirate" video campaign. A series of three high-energy video sets that highlighted activities young people enjoy doing on vacation. Exhilarating attractions, a hip, bustling waterfront and a pumpin' nightlife scene all worked to highlight Florida's most diverse destination. Everything about the music and imagery aligned with this target audience's interests, which effortlessly worked to capture both organic and paid media efforts for the client. 
VISIT IDAHO: Break Away Campaign
In the midst of a global pandemic, Idaho needed their messaging to be both flexible and relatable. That's when Madden partnered with Visit Idaho to develop the "Break Away" campaign. With travelers wanting to break away from the everyday, and to take a break away from the day-to-day, this campaign elevated brand awareness to do just that. Through employing a multi-faceted media plan across a wide variety of channels (including Google, Amazon, TikTok, Pinterest, Connected TV, and more), prospective visitors were transported to the wide open spaces, outdoor recreation, and natural beauty of Idaho.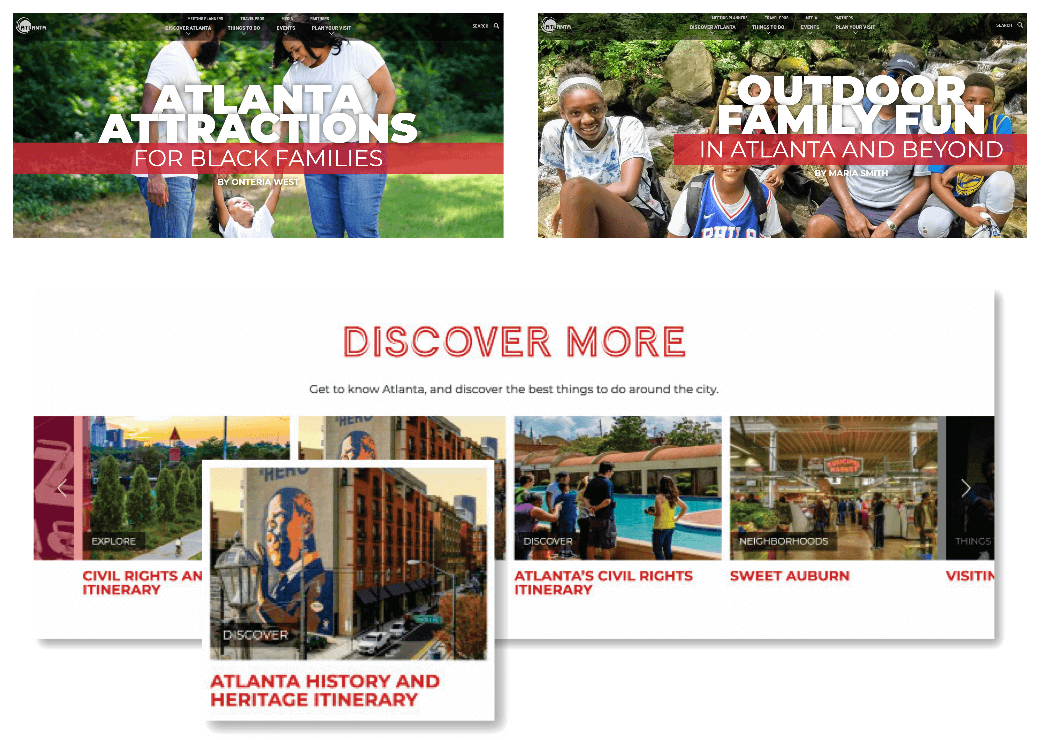 DISCOVER ATLANTA: Diversity and Inclusion in Website Redesign
Atlanta Convention and Visitors Bureau (ACVB) was looking for an agency partner to bring their destination's essence to life by inspiring audiences with a redesigned website, spotlighting the destination's pride in its diversity, and creating a personalized experience for each website visitor.
Now, when a user reaches the new DiscoverAtlanta.com, they are greeted with a large header video that features couples and families of all ages and ethnic backgrounds discovering things to do in the region. ACVB and Madden consciously selected and featured a majority of non-white models and included an older couple and gay couple. In addition to visual representation throughout the site, Madden worked with local Black content creators to write inspiring, personal stories of their favorite places to spend time in Atlanta so travelers would get a local's view of the city's outdoor activities, dining, history and more.
TRAVERSE CITY TOURISM: Data Marketing and Voyage
Destination marketing organizations continue to make the evolutionary leap to destination management organizations. As they do so, our partners need data-driven tools to inform decision-making, measure impact, and fulfill their fiduciary responsibilities. In 2021, Traverse City Tourism needed data ammunition to show local and state legislatures that there was a direct correlation between where they placed paid media and increases in overnight stays to short term rentals. Working with Madden's data analysis experts, Traverse City Tourism used Voyage's geolocation data capabilities to analyze visitor traffic into highly saturated short term rental areas. Madden developed a Visitation Intelligence Report that analyzed Traverse City's paid media efforts in the top 20 competing markets. This data was integrated and visualized in Voyage to analyze if there was a correlation between Traverse City's advertising and an increase in overnight stays. Madden and Traverse City found a moderate to strong correlation between paid media impressions in the top 20 markets, and increases in overnight stays to short term rentals in Traverse City.
TRAVEL WYOMING: Innovative Technologies
In 2021, we sought to create exceptional SEO-friendly content experiences that integrate text, video, gamification, and other interactive content. Travel Wyoming partnered with Madden to tailor technology to accommodate a number of unique search needs. One example of innovative technologies is the Travel Wyoming chatbot feature located on the Places to Go page. With nearly 98,000 square miles of exploration opportunities, the interactive chatbot (also known as Wyatt-Bot) helps visitors refine their search to feature experiences specific to their interests.
Another innovative addition to the Travel Wyoming site is the interactive map, which takes data from multiple sources including external APIs, hand-sourced locations, and Wyoming Outdoor Recreation, and weaves them together to create an information-rich, filterable interactive map. At last count, the interactive map features over 18,000 points of interest, and is updated regularly. Each point of interest includes further details such as photos, access instructions, and contact information for businesses, as well as a link to step-by-step directions. The map can also be used offline, allowing users to reference it even in the Wyoming wilderness. Following its launch, it quickly became one of the most visited pages on TravelWyoming.com.
Goodbye, 2021. Hello, 2022!
Keep an eye out for future blogs as we further explore key concepts and trends as we say goodbye to 2021 and look ahead to what destination marketing will bring in 2022. Follow us on Facebook and LinkedIn where we will be sharing more insights from our team in the New Year.