Black Voices in Travel Marketing
February 22, 2022
Representation in the Atlanta Convention & Visitors Bureau
In 2019, Black Americans spent 109.4 billion dollars—yes, billion with a b—on travel. However, despite being an economic powerhouse within the travel leisure sector, the community continued to lack thoughtful representation. The Atlanta Convention and Visitors Bureau (ACVB) was among the agencies that led the charge toward more meaningful inclusion and change.
Known as a community that prides itself on diversity, ACVB sought to promote authentic portrayals in all their marketing efforts. That's why, in 2019, ACVB partnered with Madden to curate a website that better showcased and celebrated Atlanta's full spectrum of diversity. The result was DiscoverAtlanta.com, a website that has won an eTSY award and two HSMAI Adrian Awards, including a Gold Award for Diversity Marketing.
Authenticity is Key
With a majority Black population, it was critical to highlight Black voices on the new site.
To further align with its value propositions of diversity, boldness, and collaboration, ACVB and Madden worked directly with local Black content creators to write inspiring, personal stories.
These stories highlighted the writers' favorite places to spend time in Atlanta, which granted prospective travelers a local's view of the city's outdoor activities, dining, history, and more. With seven local writers contributing to over 15 unique stories, visitors were able to learn more about Atlanta through content like "Celebrating Black Art in Atlanta" and "2 Days in Black-Owned Atlanta."
In addition to the first-person immersive stories that were now being told, staff writers developed additional features such as "Black-Owned Businesses in Atlanta You Should Know" and "How to Celebrate Juneteenth in Atlanta."
Representation Matters
Representation matters in the storytelling of a destination, especially one as multicultural as Atlanta. That's why each piece of content includes a headshot and bio from the writer, as well as photos of them exploring the city. Including these details further personalizes the content from a local's perspective while featuring stories, activities, and places that are intriguing and popular for travelers.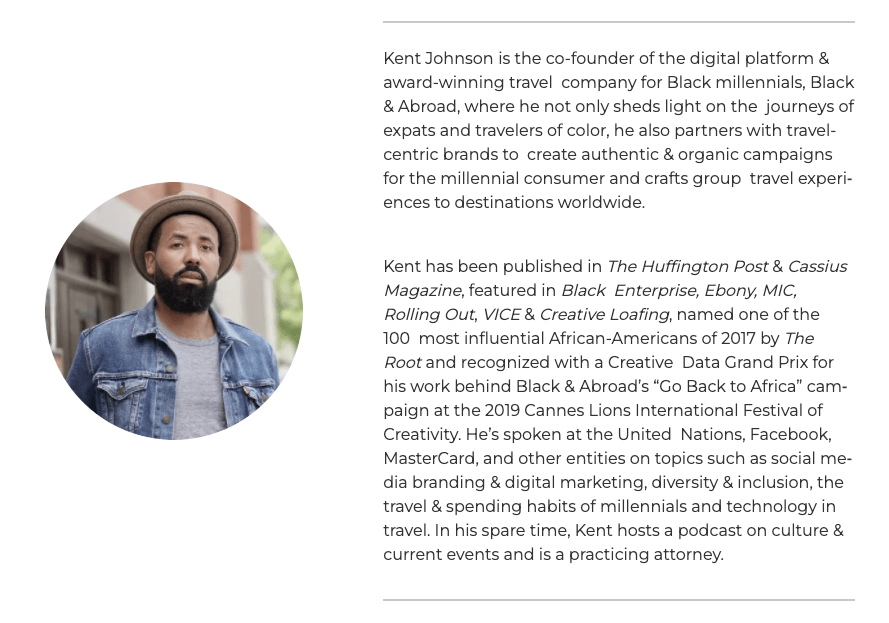 We also added disadvantaged business entity (DBE) status to partner listings to show which small businesses were owned and controlled by socially and economically disadvantaged individuals.
Sustained Growth
With a marketing strategy built upon authentic experiences and told by local writers, ACVB was able to deliver on their diversity and inclusion goals for the new site. However, the work didn't stop there. In an effort to sustain meaningful change, the mechanics of the site were rebuilt to target travel interests, as opposed to personas defined by specific demographics. Having a site developed around travel intents enabled us to deliver travel content to people of all demographics. Through defining users by their interests, we are able to reach and represent everyone, as opposed to pigeon-holing marketing efforts into specific population segments. 
This interest-based targeting was reinforced by content recommendation technology that was integrated sitewide. Using our research findings, Madden segmented Atlanta's audiences by the destinations value propositions, landmarks, cuisine, attractions, entertainment, and experiences that would resonate with each distinct audience.
Learn more about responsible marketing efforts here.