Creative Process: Come Play in our Stylescape Sandbox
April 12, 2021
Sometimes agencies keep key parts of their creative process behind the curtain. They either want to keep things close to the chest or have a hard time putting their process into words. Madden lets our clients not only peek behind the curtain—we invite them into our creative sandbox with Stylescapes.
Stylescapes convey the look and feel of brand assets with examples of your brand's visuals and personality. It's a tool we use as a creative sandbox to try different concepts or designs using our clients' brand identities and messaging.
Each Stylescape is a visualization of a campaign concept. We integrate insights from research into the Stylescape concepts, pulling in images and content we know will resonate with target audiences. Inviting the client team to observe and provide feedback gives them an opportunity to be part of creative design and content development, and it allows us to explore design elements like type, color, photography, textures and graphical treatments.
A Chance to Explain Our Creative Process
Stylescapes also give us the opportunity to discuss our creative thinking with our clients, and discuss potential campaign concepts while providing visual cues. For example, we created for a Stylescape to showcase our "G is for Galena" campaign for Visit Galena, which we discuss in detail here.
Stylescapes are an open canvas. Processes can sometimes feel templated or cookie-cutter, but we create Stylescapes to specifically give each client a custom creative tool that is unique to their brand. Here is a Stylescape we created for our client Visit Independence: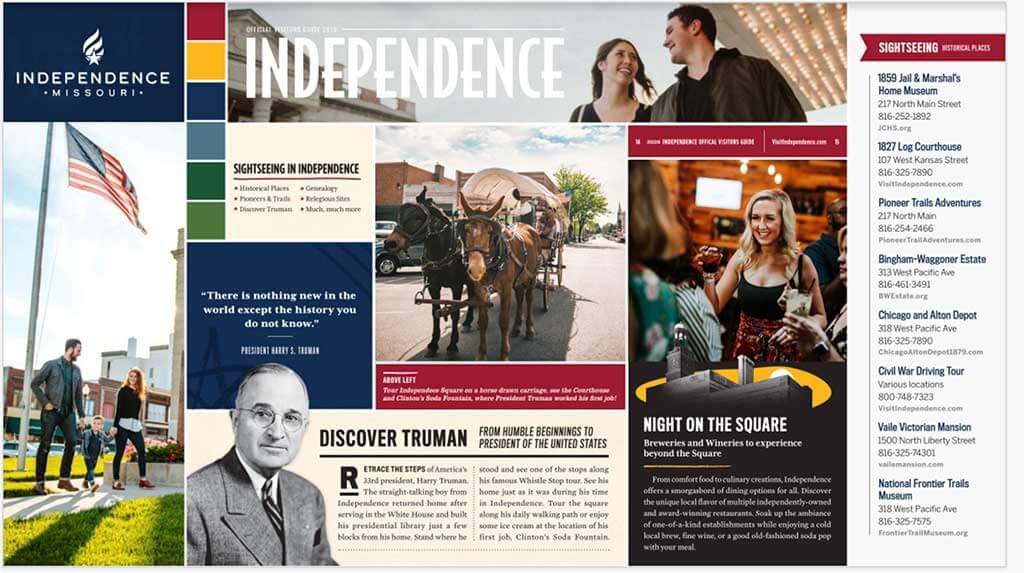 As you can see, we pulled in their creative assets and brand elements to give the client an idea of how everything would fit together. With Visit Independence's brand being more formal and rooted in the destination's history, we include a sophisticated font, uniform separation of assets, and subtle messaging.
Campaign Concepting
Stylescapes are also flexible. They give our creative experts the ability to showcase different iterations of campaigns in a single place. Take for example the below stylescape we created for Visit Luzerne County. We showcased different creative assets within seasonal campaigns, repurposing their existing brand standards to show how we would work with their existing brand.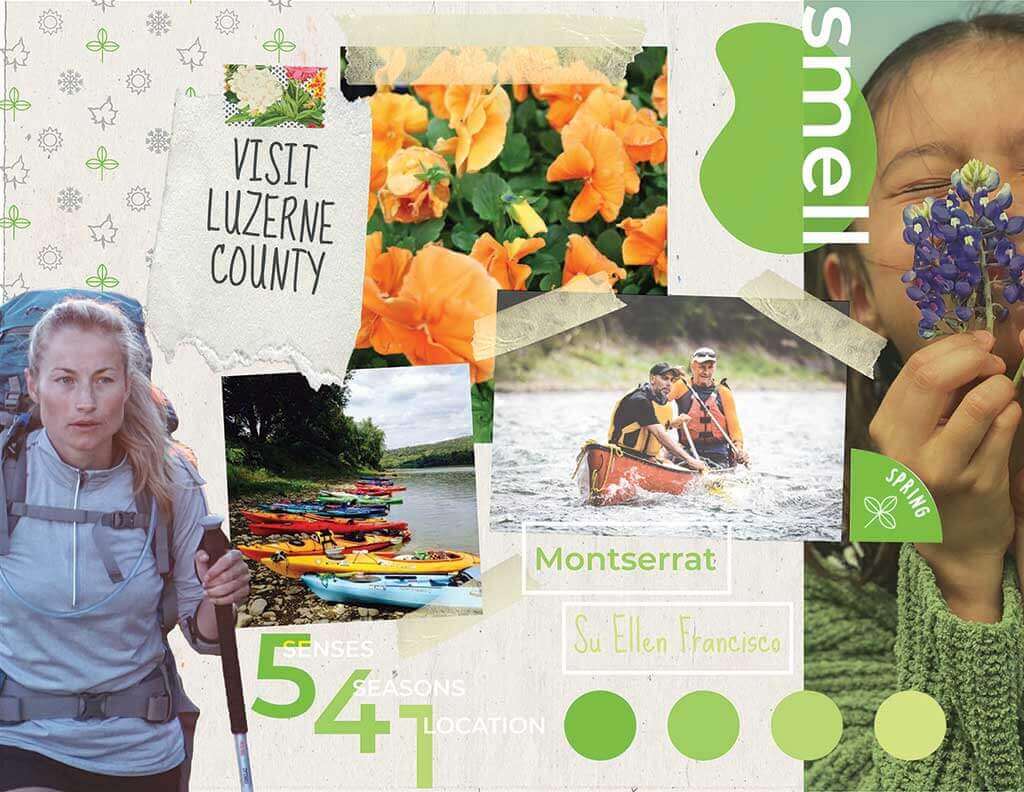 Tell the Creative Story
We pair Stylescapes with written narratives to complement the feeling we want our Stylescapes to convey. These narratives add depth to our visuals and showcase the compelling story behind our campaign. For example, below is a Stylescape we created for Lake County, Florida paired with our written narrative outlining the campaign's big idea.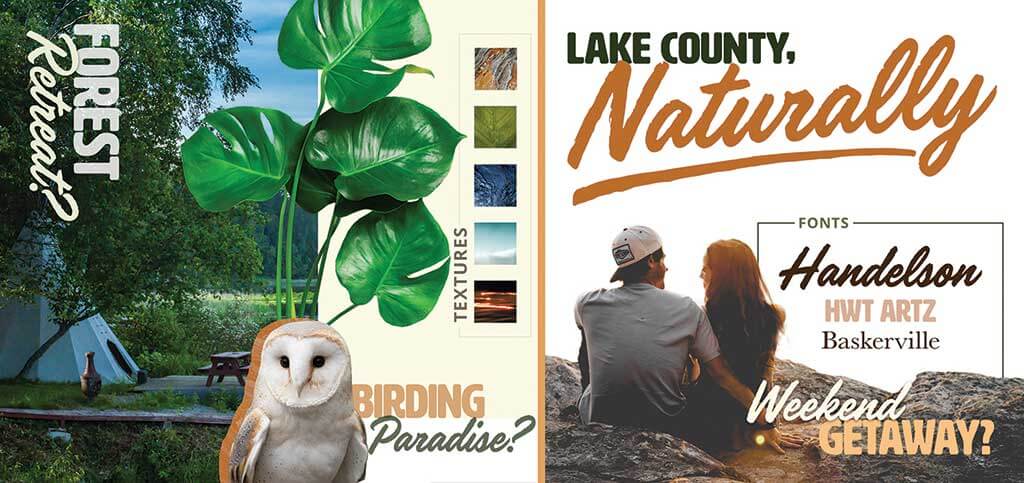 You're in need of a break from it all—the news, the noise, the daily grind. You want to find a nearby escape where you can relax, unplug, embark on adventures and make new memories. Where to go? Lake County, Naturally.
The "Lake County, Naturally" campaign will highlight the outdoor amenities and natural experiences Lake County offers, from hiking and paddling to golfing and glamping. Each ad will begin with a travel question our audience has on their minds, followed by the answer, "Lake County, Naturally." The campaign will be targeted to families, couples, and outdoor adventure seekers within a regional drive market of Lake County that includes the Orlando and Tampa Bay metro areas.
Weekend Getaway? Lake County, Naturally.
Hiking Adventures? Lake County, Naturally.
Forest Retreat? Lake County, Naturally.
Small-town Charm? Lake County, Naturally.
Scenic Escape? Lake County, Naturally.
Best-Kept Secret? Lake County, Naturally.
Hitting The Links? Lake County, Naturally.
Come see how our creative process fits into our full-service capabilities.
Transparency and Creativity
We build Stylescapes into our creative process because they act as a prism— taking that focused beam from research—and expand it into a mosaic of creative concepts and ideas. We believe they lead to better creative campaigns as well, giving our client the ability to weigh in during the creative process and honing our designs in a collaborative space.