New Google Products Set to Improve Destination Marketing
May 17, 2019
Ever consistent, Google once again brought the heat with the highly anticipated Ads Innovation keynote at Google Marketing Live. Google uses the annual event to let business owners and marketers know what features and products they can expect to roll out in the near future. Among the most exciting announcements last year were YouTube lead ads, enormous responsive search ads, and smart campaigns which have performed incredibly well for our clients who have activated these.
As Google Premier Partners, we received the invite to attend this year and had access to their great product management teams. We are excited that now we get to share our learnings.

For the travel industry, easily the biggest announcement from Google Marketing Live has nothing to do with the 10+ products launched – it is Google Travel live on desktop. For most of us in the travel industry, we have started to see this capability evolve from the ability to search for flights to booking hotels and even Google Hotel Ads.
Google continues to launch travel-focused tools on smartphones and now their new travel portal on desktop helps the traveler sustain their trip planning between devices. Consumers continue to take a non-linear path to book a trip, even changing their goal destination in the process, sometimes changing both destinations and hotels. With consumers taking months to book a trip, Google brings a helpful and trusted platform to help that consumer become a traveler – allowing them to continue along their journey without having to restart each time they become inspired to travel.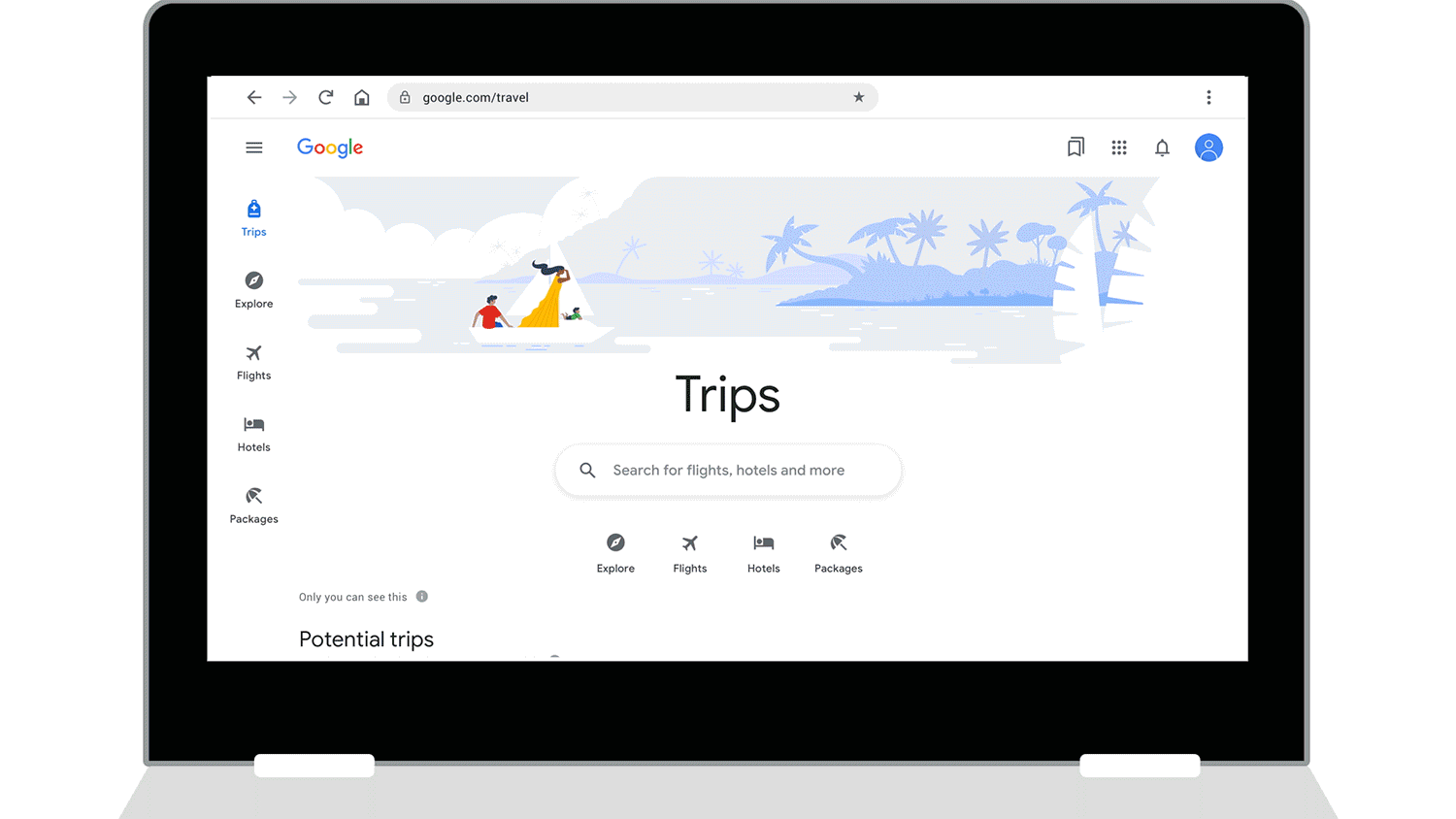 The travel planning portal is now live and includes flights, hotels, sights, and even trip packages. In talking with the product team, your DMO pages and imagery will populate many of these destination pages with new features and posting capabilities continuing to be developed.
What does this mean for search ads? They created a fast lane for hotels with the Google Hotel Ads product that debuted last year. This product helps to identify those in market for travel, and we expect to see hotels increase spend on the Hotel Ads product and likely reducing the search demand (and thus CPA) for more traditional travel-related search engine marketing.
Smarter Creative and Improved Ad Formats
The time of keyword search has long passed in creating effective search engine marketing strategies. DMOs must continue to anticipate user needs and provide information that shows them as a trusted adviser, provide rich answers seamlessly, and give users the option to move quickly or slowly along their travel journey.

With the growth of video, image, voice, and new ad formats for search, Google unveiled six new ad formats all focused on interactive and visual content. These new ads are highly engaging with visual elements that can drive inspiration. We think DMOs should pay particular attention to the following:

SEM Gallery Ads

It is no secret that search performs well and meets the consumer at their point of curiosity, yet text is not always as inspirational as images. For DMOs, images do a much better job of selling their destinations than words. This is why we are very excited about Gallery Ads. Gallery Ads are the first Google Search Ad type that includes a visual element. This ad unit had great success as a Google Auto ad unit and is now being made available across all industries.

If you thought it could not get any better than that, the ad format will not just include a gallery of photos, but it also expands into its own full-page experience (very similar to Facebook & Instagram Instant Experiences). Since the gallery expands, you need to include descriptions for each image giving DMOs the opportunity to tell creative stories that inspire curiosity.
With Gallery ads we wanted to combine the intent of search with a more visual and interactive ad format. With Gallery ads people can swipe through a visual ad that sits at the top of the search result page. When they tap on the ad a scrollable image gallery will open featuring a text headline at the top and taglines beneath each image. As people browse the image gallery the headline will remain visible at the top, and any further click will take people to your site. This makes easier for you to show more content and connect with people that are still researching for your brand providing them all the information they need with fewer taps."

Sissie Hsiao VP, Mobile Apps Google
Discovery Ads

The Google Discover feed reaches 800 million people, and it is not even Google's biggest property. To help marketers and business owners to maximize this reach, Google announced Discovery Ads.
Launching later this year, Discovery Ads run in the Google Discover feed, YouTube home feed and Gmail social and promotions tabs. Powered by Google's growing machine learning capabilities, these ads will not be powered by keyword-driven campaigns. Instead, they will run in a new Discovery campaign type driven by targeted audiences.

Like other dynamic ad formats, machine learning will mix and match creative, headlines, and descriptions to best appeal to the individual. The new ad format is expected to perform more similarly to social ads than anything Google has previously released with early customers seeing conversions 25% lower than either search or social ads.
Local Campaigns

Local campaigns are going to be great for your local partners. These are semi-automated campaign types that promote your in-destination partners across Search, Display, Maps, and YouTube. These will be similar to responsive ads and will display in elements from promoted pins to more traditional looking display ads. We are looking forward to testing the limits of this capability for consumers in-destination and as part of their booking experience.

Do keep in mind, the local campaigns require your partners to have an updated Google My Business profile. If you have not talked to our team about OnLocation, you should connect with our team to see the wayfinding health of your most visited businesses.

Expanded Opportunities in Video
The growth in YouTube as the second most-used search engine in the world continues to drive great results for the travel-industry. Much like the early days of search engine marketing, we are seeing lots of white space for both innovation and great return on ad spend with effective video marketing with sequenced six-second videos outpacing longer videos in overall engagement and action.
We highly encourage you to consider adding YouTube to your media spend. With good performance coming from even the simplest flat-color and text videos inspiring curiosity and consumer engagement, building a creative plan as part of a sequenced six-second storyboard can truly help drive new inspiration and awareness of your destination. The YouTube team revealed running 3-6 second bumper ads had 107% higher ad recall and 134% higher purchase intent than the longer, 30-second video ads.
Worried about high production costs? Wait for "bumper machine" coming later this year that will use machine learning to shorten your videos auto-magically while retaining lightweight video editing features so you can retain creative control.

What Google has done for digital advertising, we expect them to continue to do with traditional media. Launching this fall, there will be increased opportunity for video to be deployed and measured across YouTube, Connected TV, National Channels and Audio formats. Right now, a few channels are in beta-testing, but we expect this program to expand with increased access in the coming months.

Optimize
If you ever want to make sure you are throwing your digital marketing budget away, keep not paying attention to page speed. This is the single biggest contributor to bounce rate with 40% of mobile consumers leaving if the page does not load within four seconds. What does this mean in real terms? Your true CPC is actually 67% higher because those other clicks never made it to the content on your site.

You can use optimize to test performance enhancements, but you can now connect it to your Google Ads account and develop personalized landing pages for targeted visitors. This allows you to create unique experiences across your personas like family, girlfriend getaways, seniors, LGBTQ, and others. While not as robust as something like Persosa or GetSmartContent (now Bound 360), the Personalization beta page gives you tremendous capability.

Looking Into the Future
Our team is super excited about changes to some platform capabilities – changes to Google Ads Audiences like merging affinity and intent audiences, AI-powered audience expansion, continued improvements where smart-bidding and conversion-based goals will improve outcomes and overall budget performance, campaign-level conversions, seasonality adjustments, audience expansion tool (similar to Facebook lookalike audiences) and the list goes on. While most of these help us merge the art and science of what we do each day, there are some elements released for other industries that give us hope for new capabilities.

There is a new capability being built for brand partners for retail where major brands can share budgets and support local campaigns without having to advertise globally to "create interest". This functionality allows a much closer partnership in digital advertising without the complex planning that often comes in these relationships. We are watching this capability to see how it could improve cooperative marketing relationships, especially with national brands.

We think the gap between the Google Marketing Platform and attribution is quickly coming to a close. After speaking with members of the product teams in the "sandbox", we believe we will be able to map engagement with ad units across Google's products to offline conversions in your destination. We are excited to help engage in this pilot and provide feedback to the product team and improve overall attribution. This has been available through some DSP providers and new research capabilities, but never through the Google platform. Stay tuned!

If you are interested in being part of any of these programs, please reach out to our team either through our account team or below. We will request to have you added to the beta programs, or bring you into them when they open up for full release.