Overtourism Summer Blog Series Part Two: Sustainable Tourism and Environmental Stewardship
June 14, 2022
Attend any conference or travel and tourism event, and the words on most lips are "sustainable tourism." Of course, the environment was on our minds pre-pandemic. Yet, the rise of people flocking to outdoor spaces and seemingly overrunning smaller communities during COVID brought protecting natural resources, providing socio-economic benefits for tourist destination communities, and creating authentic tourism experiences rapidly to the top of to-do lists.
With a significant number of our partners working in destinations heavily reliant on limited, natural resources, Madden is actively deploying marketing campaigns that support what many of today's travelers are looking for now and what tomorrow's travelers will require. Here, we share two successful sustainability campaigns — Discover Crystal River Florida and Visit Idaho — to inspire you to champion environmental stewardship in your destination.
Discover Crystal River "Step Into Awesome"
As part of our award-winning "Step Into Awesome" brand campaign for Discover Crystal River, we amplified the brand as the Manatee Capital of the World while highlighting education, conservation, and protection.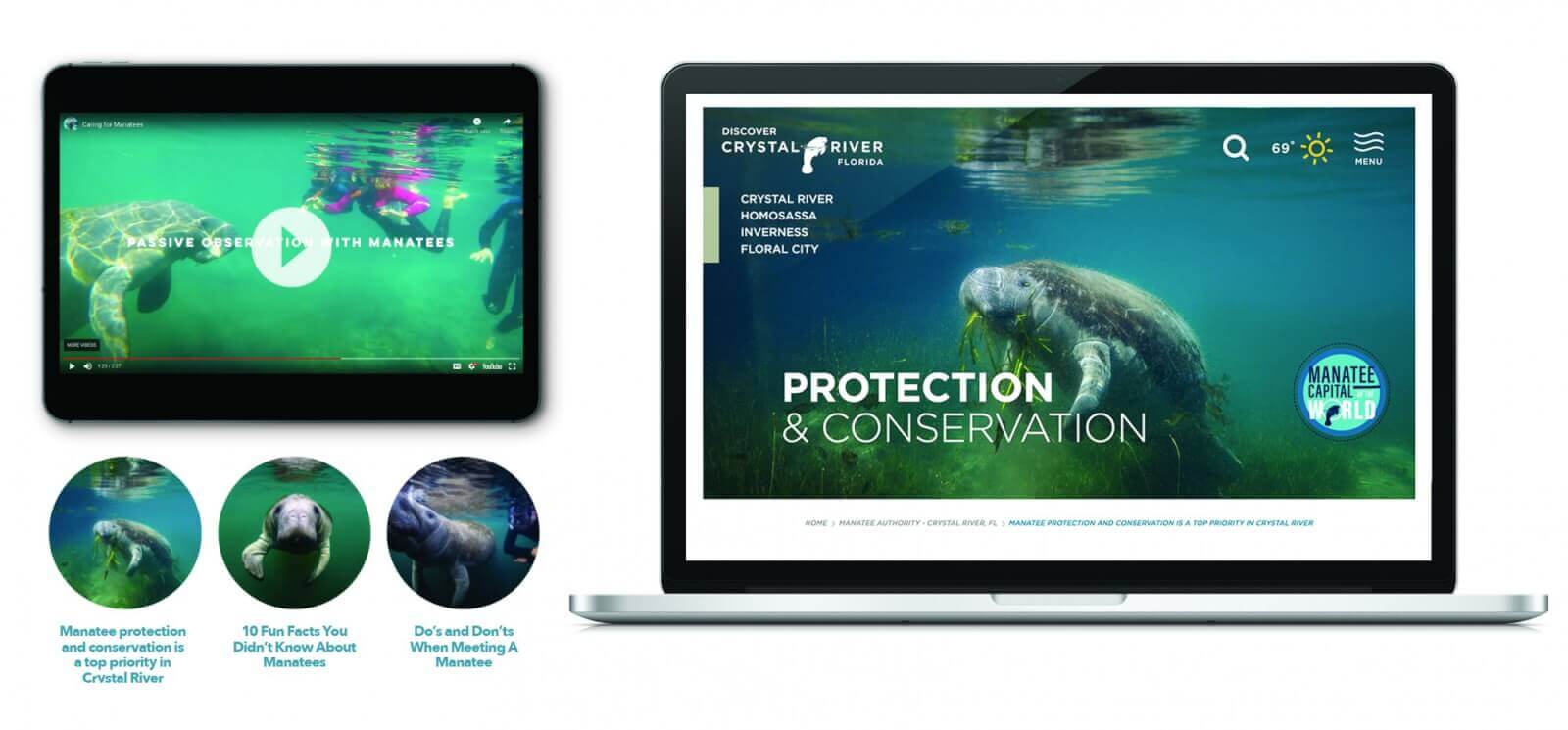 This campaign sought to tap into the emotions travelers feel in the destination by developing visuals of the one-of-a-kind experiences Crystal River offers — among them up-close manatee interactions. We deployed an omni-channel marketing strategy to promote the "Step Into Awesome" brand during different stages of the Traveler's Journey and to create an integrated brand ecosystem. This included display ads, social ads, dynamic blog posts, online video ads, and television ads.
Thrilling videos, inspiring photography, and dynamic blog content delivered educational resources about the manatees and their habitat. Website visitors are treated to a hub of information from the homepage "Learn About Manatees" that solidifies Discover Crystal River Florida as a manatee authority from the video "Caring for Manatees" to the pages educating travelers on everything from manatee protection and conservation to how to interact with the loveable sea cow to visiting responsibly, and more. 
Since implementing the new brand campaign, all behavior metrics have seen a 10% or higher improvement, including time on site, time on page, and bounce rates. Most importantly, not only is Discover Crystal River's manatee community stronger and healthier than ever but so is the overall manatee population in Florida. Initial surveys in the early 1990s showed only 1,300 manatees left in the state. US Fish and Game estimates that the population is pushing over 6,500 today.
Visit Idaho "Travel with Care"
Idaho is a destination flush with natural assets and outdoor recreation experiences. The pandemic saw visitors flock to the state in high numbers as outdoor adventures became the most desired travel aspiration.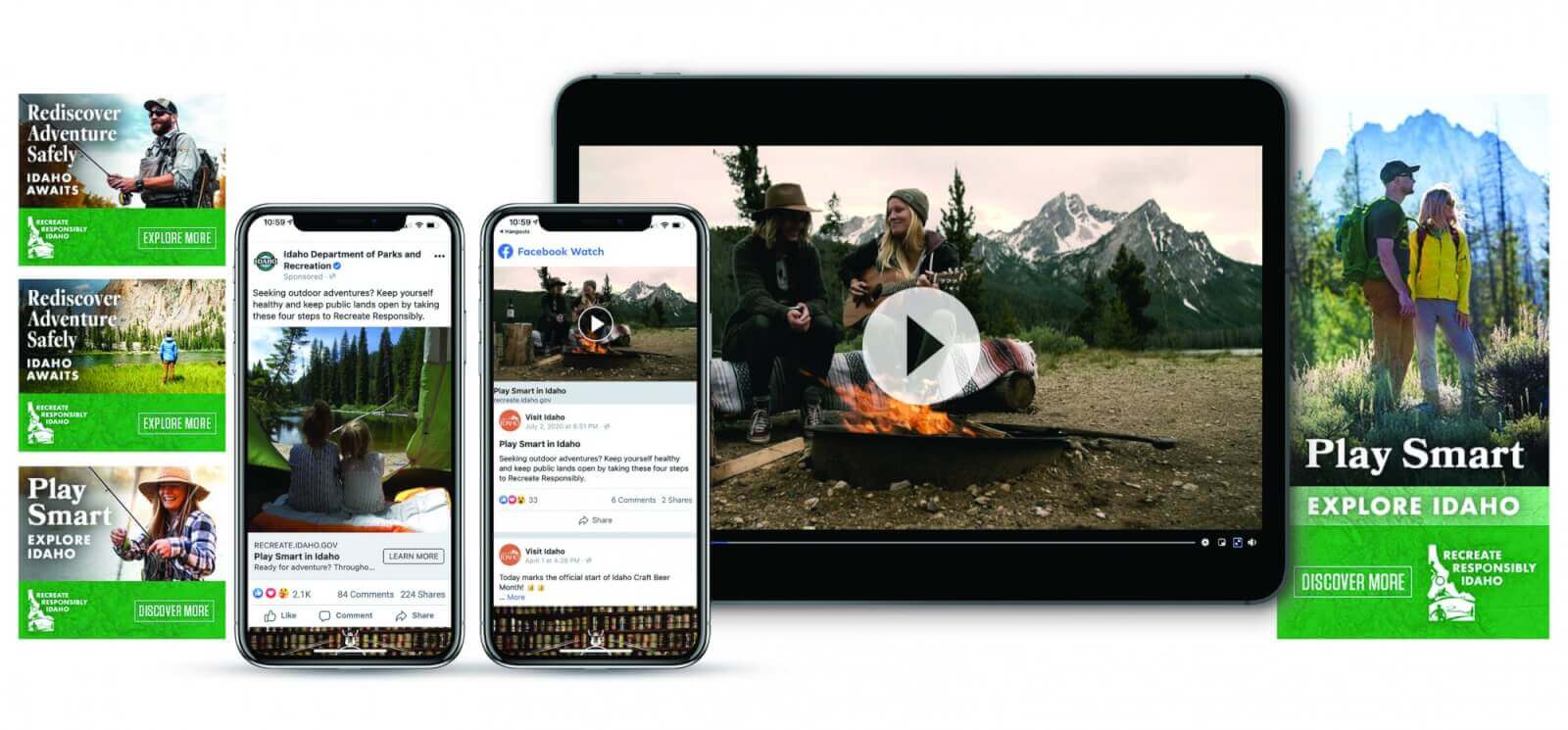 As Visit Idaho's agency of record, Madden developed a marketing campaign in partnership with Idaho Fish and Game and Idaho State Parks & Recreation, encouraging Idaho residents and visitors to recreate responsibly. The "Travel with Care" campaign is a three-pillar initiative that reminds travelers to 'Care for Yourself, Care for Others and Care for Idaho' when adventuring to the Gem State.
The first pillar highlights being prepared and staying safe when visitors are headed outdoors. The second pillar focuses on being courteous and kind while enjoying Idaho's outdoors, while the third pillar focuses on caring for Idaho and being aware of the impact every traveler has on the destination.
The multi-channel campaign included sustainability messaging being served to target audiences and driving online users to a landing page. The web page consists of tips on how to travel with care and recreating responsibly resources, including road conditions, weather, fire restrictions, and wildfire updates. A separate "Recreate Responsibly in Idaho" video shares key information and resources about the conservation and respectful use of Idaho's state and federal land.
Mitigating Challenges of Overtourism
While these are only two examples of the innovative sustainable tourism campaigns Madden Media is creating, there are many other DMOs collaborating with us. Watch our social media channels and our blog for more as parts three and four of the sustainable blog series will be published later this summer, and be sure to check out part one.