Overtourism Summer Blog Series Part Four: Promoting Resident & Partner Sentiment
July 12, 2022
In a recent study conducted by Destination International, residents reported that they felt left out of the conversation when it came to tourism development in their communities. Following the onset of the COVID-19 pandemic, local economies nationwide witnessed enormous booms in travel and tourism — both to the benefit and burden of the locals. With mounting concerns surrounding overtourism and sustainability, it's now more important than ever that the voices and concerns of the community and their partners are taken into account.
Creating Meaningful Connections
Residents are an often overlooked target audience in destination marketing. While locals largely benefit from travel and tourism in their community, they also bear the brunt of the consequences. Building deliberate and thoughtful relationships between locals and visitors can generate immeasurably positive effects for both stakeholders. When resident sentiment is high, buy-in and pride in the community increase across the board. One example of an effective regenerative tourism campaign through the lens of the locals is our work with Visit Port Aransas.
Once known as a sleepy fishing village along the Gulf Coast of Texas, Port Aransas is now widely regarded as a hip and happening vacation destination for the young and old alike. As the community of Port Aransas grew, the community felt like their concerns weren't being met and identified an increasing need for sustainable tourism. Salty Stories was their solution.
In creating the video and podcast series Salty Stories, Visit Port Aransas was able to share first-person stories about the island's locals that were both authentic and humanizing. These stories created a personal connection to the community, which led to increased bookings and greater stewardship efforts from visitors.
Boosting Partners
An equally important facet of resident sentiment is partner sentiment. Despite positive perceptions of travel and tourism broadly, a disconnect can sometimes be present between partners and their DMOs. It's not enough to just run ads highlighting a destination, partners need to feel equal buy-in regarding destination marketing — after all, they are the primary economic drivers in their community. It's also vital they feel supported when times are bad, such as during the pandemic. For this reason, it's important that DMOs create accessible opportunities for discourse that both engage and educate their partners.
Cooperative marketing programs pose the perfect opportunity for communities to collaborate with and boost unique partnerships. In 2021, Explore Branson partnered with Madden to offer cooperative sales opportunities to their partners. Five co-op opportunities were offered that aligned with the Branson/Lakes Area CVB's overall destination marketing strategy. Participants were featured in both the Official Annual Visitor Guide and ExploreBranson.com, which gave coverage across a spectrum of both print and digital media.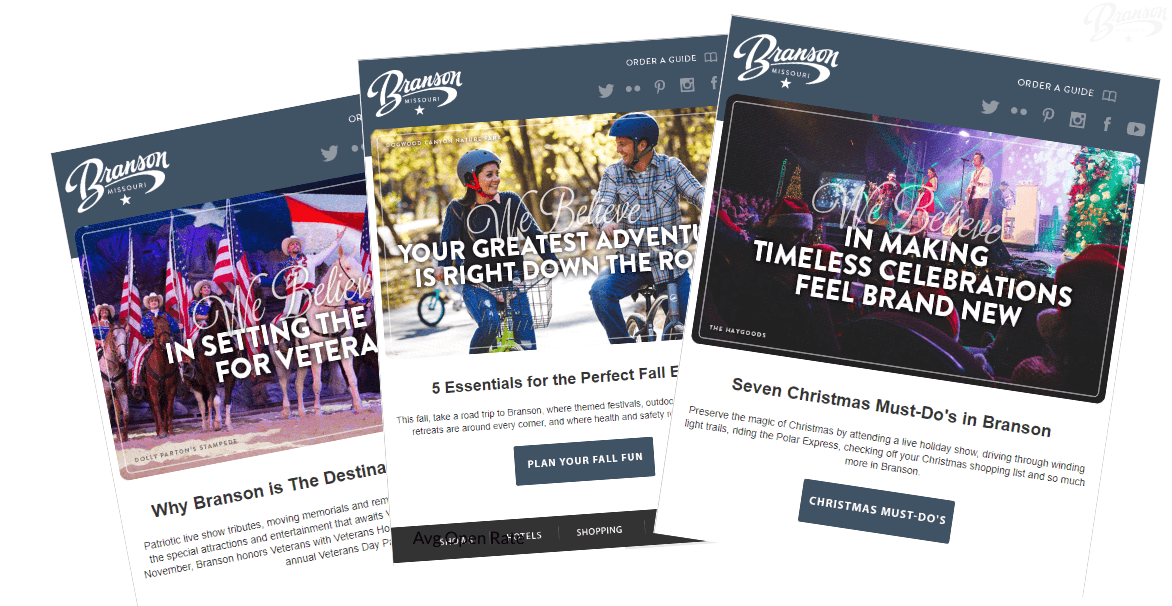 Not stopping there, Explore Branson and Madden grew the program even further. Research indicated there was growth potential in Branson's Theatre District community — a community hit especially hard during the pandemic. Following this data, the first-ever 100% matching search marketing co-op program was born for live shows. This program saw Branson/ Lakes Area CVB matching all SEM marketing funds invested by its Theatre District partners, and included educational seminars and webinars from Madden for Branson's partners, teaching them the value of SEM.
This program quickly sold out for all 14 partners, with Branson/Lakes Area CVB matching $300,000 in SEM funds, and the co-op has generated 45% of traffic to partner websites, with 88% of that traffic coming from new users. The co-op was a resounding success and served as a model for future partner sentiment initiatives.
Building a Better Tomorrow
Travel truly makes the world a better place. Heads in beds generate meaningful tax revenue, which in turn builds schools, roads, and parks. Paychecks feed families. Exposure to new cultures and ideologies builds empathy. There's no question that the positive impacts of travel far outweigh the negative; however, as the demands of the modern world change, so too should we. And who better to help us build a brighter tomorrow than the individuals of a community? From defining the role of a DMO, visitation volume, and sustainability, it's our responsibility to collaborate in tandem to ensure our efforts ripple positively through generations to come.