National Travel & Tourism Week: The Future of Travel
May 2, 2022
In the aftermath of the pandemic, the travel industry faced some of its most trying times. Uncertainty, anxiety, prolonged closures, and job loss shrouded a market that previously generated $2.6 trillion dollars in economic impact annually. The absence of travel and in-person connections was challenging to say the least.
But now — despite two years of setbacks — the industry is witnessing a new and improved kind of growth. For National Travel and Tourism Week, we set our eyes on the future — a future that strives to incorporate in-person connections, sustainable travel, conscious inclusion, cutting-edge creativity, and more.
Facilitating Recovery
Increasingly, consumers are looking to reduce the environmental impact of tourism (and overtourism) through sustainable and regenerative travel. In fact, according to a 2022 study conducted by Booking.com, more than 61% of U.S. travelers want to vacation more sustainably.
For Madden's Chief Revenue Officer Brett Gordon, sustainable and regenerative tourism are growing demands that require immediate action.
"COVID-19 hit the accelerate button in the sustainable tourism shift," Gordon says. "We see our outdoor destinations increase in visitation, and overall travel seasons continue to extend. Soon, many destinations will need to think about capacity and how they can ensure these invaluable resources are maintained for future generations."
With more and more conscientious consumers entering the market daily, it's the responsibility of destination marketers to position initiatives toward greater environmental and socially responsible travel. With the correct tools, travelers can simultaneously experience and protect our country.
"Not only is sustainability important because our planet and our people are at stake, but also because today's travelers — Millennials and Gen Z in particular — hold brands and destinations to a standard only supported by genuine action," says Content Strategist Lindsey Wilhelm. "Spreading awareness of, and advising against, overtourism is a solid starting point."
Greater Mobility
Prior to the pandemic, digital nomadism was an enviable niche of travel that few had the privilege of experiencing. Now, with more than 40 million Americans working remotely, a new kind of travel market is emerging. No longer do you have to sacrifice personal for professional — instead, you can log your hours remotely, from anywhere in the country.
According to Madden's Chief Operating Officer Sarah Hupp Foster, the "work from anywhere" trend is here to stay.
"Travel will continue to be more integrated into our lifestyles as hybrid and remote work are more the norm," Hupp Foster says. "Digital nomad culture allows people to more easily and frequently travel. Adding extra time onto trips to enjoy new places via extended weekends with partial working time through the week is big this year and likely to continue."
With this work and wander travel style entering the mainstream market, it's the responsibility of destination marketers to speak to those audiences. With destinations eager to reestablish connections, smaller and more local communities stand to gain.
"Lots of people are willing to go a few hours by car to work during the week without sacrificing PTO," says Front End & WordPress Developer Joe Mallot. "I think regions should look to pull people from metropolitan areas to scenic areas a few hours away and advertise fast internet speed to allow people the freedom to escape for a bit, even if they don't want to commit to taking full days off."
In-Person Corporate Travel
According to a study conducted in February 2021 by Destination Analysts, 50.4 percent of planners anticipate a "return to normal" by the end of 2022. Similarly, according to the U.S. Travel Association, 85% of U.S. companies are once again conducting business travel.
For Destination Development Specialist Jeff Hirst, corporate travel is slowly returning to normal. With this change, it's increasingly essential that destinations rise with the changing tides — so much so that over half of all planners say they are certain or very likely to use conventions and visitor bureaus as planning resources in 2022.
"I think we're learning the importance of face-to-face, person-to-person connections," Hirst says. "As airline restrictions are lifted, and business development professionals feel more comfortable moving about the country, the corporate market will come back. Be it new accounts or account maintenance; there's a very important aspect to meeting someone 'zoom-less.' It may be our generation's equivalent to a hand-written letter."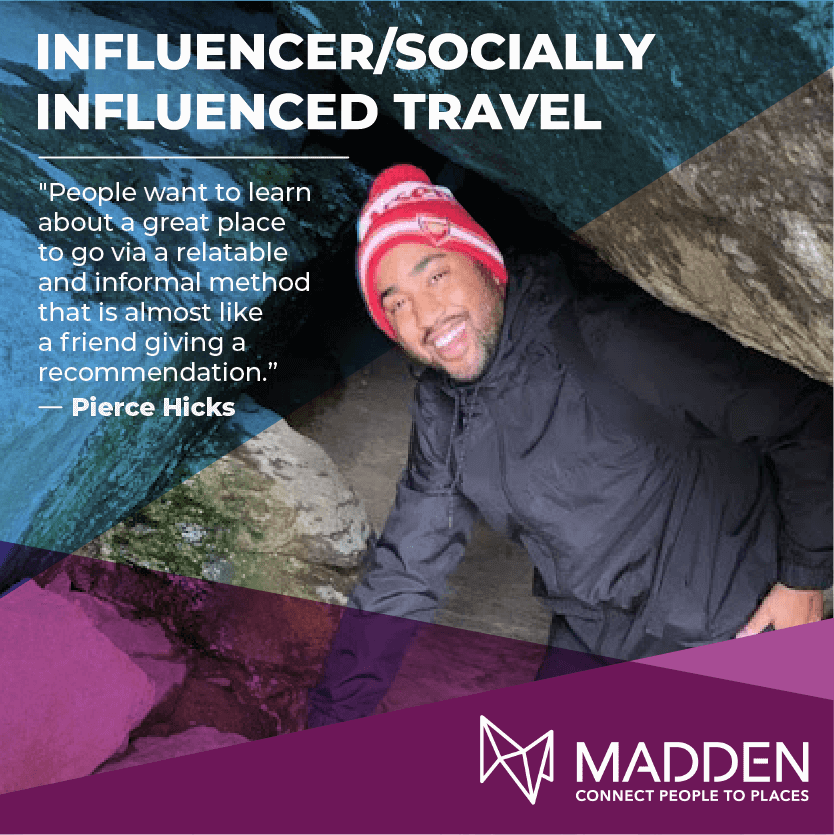 Influencer/Socially Influenced Travel
Online communities and social influencers grew to a whopping $13.8 billion industry in 2021. Travelers increasingly trust the recommendations and experiences of influencers and often seek inspiration from familiar faces first. When Hubspot asked global marketing professionals which trends they planned to invest in first, 61% said the influencer economy.
"The future of travel is social media and influencer-heavy," says Front End Developer Pierce Hicks. "Informal ads by targeted influencers are increasing in consumer preference. People want to learn about a great place to go via a relatable and informal method that is almost like a friend giving a recommendation."
More and more, we see the rise of digital tribes building upon and expanding the creator economy. With TikTok outperforming Google as a search engine, the influencer market is here to stay.
Innovation in Travel Marketing
The nature of user experience is changing. How and where a person can travel is simultaneously limitless and restricted. While some destinations may remain closed to in-person travel, new technologies allow for continued exploration. With the advent of virtual and augmented reality, destination marketers should continue to seek ways to capitalize on new experiences, while keeping in-person experiences immersive, fun, and highly shareable on social media.
According to MarTech Strategist Kaz Walls, travelers have the urge to break away from the confines of the familiar to see and feel new connections and experiences.
"I remember sitting at my computer and spending over an hour clicking through Google StreetView, amazed at how wide the world can be," Walls says. "The past two years have honed our ability to eke out a piece of joy where we can: in stay-cations, in a weekend at the next town over, in blog posts and old travel photos, and immersive new technologies. As restrictions are lifted, I hope we as travelers and as destination marketing leaders can appreciate those hard-learned lessons and continue to find our joy in new ways and unexpected places."
Creativity Driving Inspiration
As we continue to witness shifts in destination marketing and travel trends, it's more important than ever to deliver unique and cutting-edge creative campaigns that capture the individual essence of each and every destination they represent.
"I see the future of travel being fueled by creative storytelling inspiration," says Senior Creative Director Bria Hammock. "Destinations will continue to find their comfort in crafting, curating, and telling their unique story to connect emotionally to the visitor before they even step a foot onto their soil."
In capturing the essence of a destination through deliberate storytelling and engaging design, the travel industry can drive tourists to further explore more niche corners of the country.
"All of these integral pieces come together to craft something a little esoteric in the mind of a traveler," Hammock says. "That perfect moment in time… forever connected with the corner of the world in which it took place. That specific way in which a retailer connects emotionally with their brand loyalist is how destinations will lean into curating relationships with their visitors in the future."
It is our shared responsibility as a nation and as an industry to drive the #FutureOfTravel forward. A better tomorrow starts today. Check out Facebook and LinkedIn for more National Travel and Tourism Week insights.