National Travel and Tourism Week 2023: Madden Moves Travel Forward
May 8, 2023
This year's National Travel and Tourism Week theme is "Travel Forward." This is appropriate, as we want to mark this week by committing efforts to move the travel industry forward because of the macro-level impact tourism has positively impacting countries, regions, states, cities, towns, and everything in between.
According to the U.S. Travel Association, direct travel spending totaled $1.2 trillion in 2022—powering communities and livelihoods across the country—and the industry supports a total of 15 million American jobs. Travel is an essential economic engine for communities nationwide.
THE POWER OF TOURISM
Over the pandemic, many communities across the world were negatively impacted when visitors stopped coming. Local residents were given an unfortunate, but eye-opening experience. Their quality of life fell. Their favorite "date night" restaurant transitioned to exclusively take out, the museum where they took their kids on the weekend closed, and the bar where they hung out with friends was forced to close. They realized residents aren't enough to sustain a local economy; they realized the power of tourism, and how it moves their community forward.
HOW MADDEN MOVES TRAVEL FORWARD
Now, as travel rebounds, there is much to be thankful for, and much to be watchful for as well. At Madden Media, because we work exclusively within the travel and tourism industry, we are doing this daily on behalf of our over 200 DMO clients (every week feels like National Travel and Tourism Week for us!). As the U.S. Travel Association and destinations across the country celebrate National Travel and Tourism Week, we want to take a few moments to share the three key ways we are moving travel forward.
Generating a collective impact for client communities by boosting their local economy
Promoting diversity, equity, and inclusion through representative storytelling
Advocating for sustainability through destination stewardships
COLLECTIVE IMPACT
The reason we focus on the travel and tourism industry is because when it's done right it's the perfect balance of style and substance. More than just clicks and impressions, our work with DMOs generates a collective impact in communities. Tourism is an economic engine, boosting local economies by bringing outside dollars into our DMO clients' states, counties, cities, and towns. Hotel and lodging tax revenue can fund schools and parks along with emergency services and other vital needs. Paychecks from hospitality jobs feed families. As a destination marketing agency, we do much more than advertising; we help destinations enrich their local communities and improve their residents' quality of life.
Take for example the "Beyond Words" campaign we created with Visit Idaho. By showcasing the destination and attempting to create an emotional connection with travelers, we inspired families, outdoor enthusiasts, road-trippers and travel buffs to travel to Idaho—increasing tax revenue, growing lodging, and stimulating economic activity.
Overall, the campaign generated a 58% year-over-year increase in hotel revenue per available room and a 40% year-over-year increase in bed tax revenue. In Winter FY23 alone, the campaign generated $4.7M in credit card spending according to a Net Economic Impact report with one of Visit Idaho's data partners.
REPRESENTATIVE STORYTELLING
Along with generating a positive economic impact, we need to ensure the work we do with DMO clients is contributing to a positive social impact. Travel is for everyone. To move our industry forward, we must promote destinations as places we all can live, work, and explore. As Mark Twain said, "Travel is fatal to prejudice, bigotry, and narrow-mindedness." Celebrating diversity and promoting inclusivity are vital if the travel industry is going to truly move forward. It's not just the right thing to do—it matters to travelers. The rising generation is more diverse than its predecessors, and Millennials and Gen Z prioritize destinations that embody equity, diversity, and inclusion values over destinations that don't.
In our work with Discover Atlanta, we demonstrated the power of representative storytelling to highlight the destination's diverse voices. Madden worked with local Black content creators to write inspiring, personal stories of their favorite places to spend time in Atlanta, so travelers would get a local's view of the city's outdoor activities, dining, history, and more. Each piece included bios and headshots of the author, further personalizing the content from a local's perspective.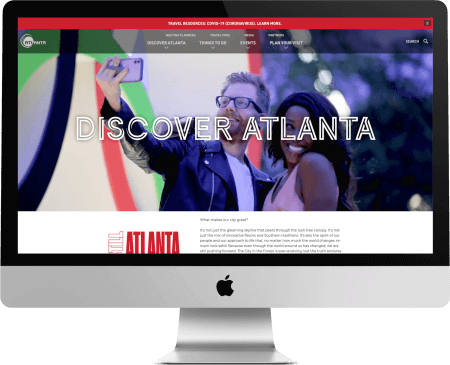 DESTINATION STEWARDSHIP
Another challenge faced by the tourism industry – that we're working closely with several clients to address — is that of overtourism. Overtourism overwhelms communities' public resources and threatens to damage fragile natural assets. Increasing visitation volume beyond a destination's limits can also harm resident sentiment and decrease a DMO's support within its respective community. That's why we work with communities to promote destination stewardship, creating campaigns that work in concert with the DMO's community stakeholders.
Working alongside our clients at Visit Port Aransas, we built our campaign around three key pillars. First, we focused on driving higher quality visitation rather than a higher volume of visitation. Second, we embraced environmental stewardship as a key business objective—creating an illustrated sea turtle spokesperson to advocate for the beach destination's environmental health. Lastly, we prioritized tactics that engaged residents and ensured they felt their voice was represented in Visit Port Aransas' destination marketing.
ADVOCATING FOR OUR INDUSTRY
We are very lucky to be part of an industry where we can connect our work to positive results in our clients' communities. We're humble to be a part of this industry, and grateful for opportunities industry partners create to help us move travel forward. In April, Madden traveled to D.C. for Destination Capitol Hill to speak directly with legislators and their staff — giving us a chance to discuss the importance of this vital industry as one of the key ingredients in a strong economy.
This National Travel and Tourism Week, we are doubling down on our commitment to ensure our work with clients generates a positive economic impact for our client communities, advocates for sustainable tourism, and promotes diversity, equity, and inclusion. Only then can we ensure we continue to move travel forward, and travel continues to move our country forward.